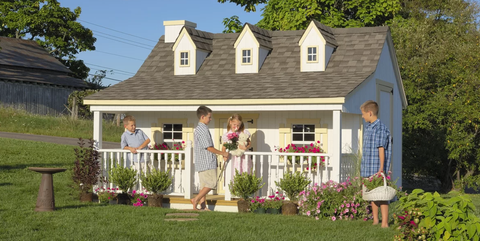 If Lifestyles Of The Rich And Famous ever gets a reboot, it should focus on kids' playhouses. Maybe it's a result of people trying to keep up with the Joneses — maybe it's the result of the tiny house trend — but it seems like in recent years, kids' hangouts have gotten a serious upgrade. Some are bonafide mini mansions. Some come tricked-out with a couch for parents to lounge on while their kids whip up a pretend dinner (dino nuggets again?!) next door.
No matter the style, the coolest part is that these over-the-top play lands aren't just the product of the most crafty Moms and Dads of the block. You can buy them, ready to assemble, straight from Wayfair and have them shipped to your door. It's a source I'd never considered, but after seeing someone post about the wonderfully Seussian Hide-N-Slide (more on that below), I found myself spiraling down a 30-minute search of the site's wildest creations. And I don't even have kids yet.
These are the ones that had me seriously contemplating ditching my mortgage for a new kind of tiny living.
1
The One With Its Own Parents' Lounge
Sportspower
wayfair.com
$354.99
Just because you're surprising the kids with a new playhouse doesn't mean you can't treat yourself while you're at it. This cabin lets you keep an eye on things while hanging in the shade. All that's missing is a power outlet and a mini fridge, so the kids can serve you a drink through that cutout window. (Soda, of course! Unless you're thinking ... Kidding!)
2
The One That's Delightfully Off-Kilter
Swing-n-Slide
wayfair.com
$709.99
Dr. Seuss would approve of this whimsically wonky abode. And the Hide-N-Slide Playhouse may give you a few design ideas, because honestly, why shouldn't you be able to slide out the front door in the morning? It'd make heading to work a whole lot more enjoyable, that's for sure.
3
The One That Could Double As An Actual School
Little Cottage Company
wayfair.com
$2,519.99
There's always one kid in every bunch who likes to round up their squad and school them — in just about everything. This solid wood playhouse lets them live the dream, and you can order it in three sizes: 8'x8', 8'x10', and 8'x12'.
4
The One That Comes Fully Furnished
Backyard Discovery
wayfair.com
$339.99
If you've got an aspiring Barefoot Contessa, this is the playhouse to buy. There's a takeout window with an attached bench, and it comes with a faux-kitchen inside, including a range, sink, telephone (for taking catering orders, obvi), food, and cutlery. Oh, and a windowbox for planting flowers or fresh herbs. Though I'm sure your mini Ina would say that if you can't get fresh basil for her quiche, dried is fine.
5
The One That Deserves Its Own Name
Little Cottage Company
wayfair.com
$3,619.99
ARE YOU KIDDING ME WITH THIS?! A full deck in the front, three dormer windows (non-functioning, but still), and the option to add a loft inside?! Let me move in, because — as Roald Dahl's Trunchbull would say — it's "much too good for children."
6
The One That's Perfect For Hipster Babes
KidKraft
wayfair.com
$326.07
So, your toddler puts birds on everything and only drinks nut milks and is still trying to convince you to move to Bushwick (not Williamsburg, please). Clearly, he or she needs this ultra modern playhouse, complete with a fake grill and a (real) chalkboard for listing the day's specials. Because you know it won't be long before your bougie babe launches a pop-up restaurant out of your backyard with these digs.
7
The One You Don't Have To Be A DIY Pro To Assemble
Step2
wayfair.com
$132.99
If all of these options are making you worry about your lack of handyman skills — and the potential damage to your wallet — check out this canopy-topped play patio. It's got a grill and sand and water tables, and the doorway is wide enough to be wheelchair accessible. AND, it's only $140.
8
The One That's Secretly The Cottage Of YOUR Dreams
Little Cottage Company
wayfair.com
$1,809.99
Blame every Nicholas Sparks novel ever, but you've dreamed of owning a little cottage by the sea. As an adult, that's still not quite within your budget, but you could live vicariously through your kid with this little number.
9
The One That Isn't So ... Permanent
Win Green
wayfair.com
$273.99
Square footage is hard to come by, so if your ideal playhouse is one that can be packed away at the end of the day, look no further. This cotton play tent can be used indoors or outdoors, and it has a whole toy shop vibe. What kid wouldn't be enchanted by it?!
10
The One That Guarantees You Kid Will Star In The Next 'My Super Sweet Sixteen' Remake
Little Cottage Company
wayfair.com
$6,599.99
Well, this just seems ripped out of a little kid's wildest dreams. Because yes, that is a two-story Victorian, complete with gingerbread trim and real, working windows. It's available in two sizes — 8'x16' and 10'x18', or roughly the size of your entire backyard.