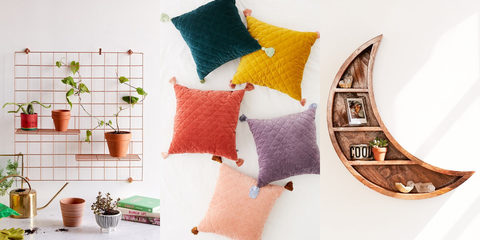 Waking up on a Monday morning to a rainy, thunderstorm-filled forecast isn't exactly the best way to start the week, but finding out your favorite store is having a major impromptu sale does kind of make up for it. That's right — today only, Urban Outfitters is having a 50 percent off flash sale on home items, with more than 100 products up for grabs with the discount.
From rugs and duvet covers to wall hangings and shelves, these are the best picks from the sale — but you can head to Urban Outfitters to shop the full sale, if you can't get enough.
1
Distressed Print Chenille Rug
This distressed, fringe-trimmed rug comes in three colors — and with the sale, you can get it in the 5' x 7' size for only $94.50, which is a total steal.
2
Crescent Moon Wall Shelf
Display all your favorite knickknacks on this super cool crescent moon-shaped wall shelf. (It's only $44.50 with the discount!)
3
Aura Hammock Fringe Duvet Cover
This duvet cover with fringe detail is normally $139 for the queen size, but you can snag it today for only $69.50.
4
Fleece Fringe Trim Throw Blanket
This cozy AF throw blanket is worth the $59 splurge, but it feels even softer somehow at only $29.50, no?
Display plants, photos, and more on this wire wall grid, now on sale for only $19.50.
6
Quilted Velvet Tassel Throw Pillow
These lush, quilted velvet throw pillows come in 5 colors — and with the discount, they're only $24.50 each.
7
Botanical Chart Tapestry
This botanical print tapestry would look stunning in any room (but especially in a dorm!) and you can get it today for only $29.50.
8
Fallon Macrame Wall Hanging
Add a little texture to your walls with this macrame wall hanging, which comes in two sizes — the small is $14.50 today, and the large is $29.50.
You can score this Himalayan salt lamp for only $17 today — what are you waiting for?
10
Standing Earring Organizer
Since this cute little earring organizer is normally $19, you can get it today for just $9.50 — more than worth it to never lose an earring again.