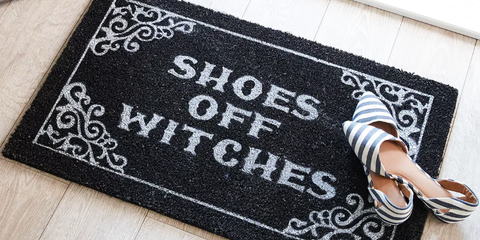 Let's get one thing straight: I'm a sucker for adorable holiday decorations, and the sooner they go up, the better. If it were up to me, they'd be up year-round — and thankfully, I now know I'm not alone.
Turns out, capitalism is on my side of this one. As stores dive full-speed into schilling all things fall, I'm just as quickly adding excessive amounts of spooky adornments to my online shopping carts. Pier 1 is no different, with many of its Halloween products already listed online. Here are the ones that deserve a spot in your home this year.
1
Pumpkin LED String Lights
Decisions, decisions. You can weave this 5-foot strand of shimmering LED pumpkin lights "through wreaths and centerpieces, or string along banisters and trees, indoors and in covered outdoor areas." Or, you know, on every undecorated surface of your home, cat included.
Honestly, this coffee/tea mug will make rising from the dead on Monday AM so much easier, especially once it starts getting chilly.
3
Witch Salt and Pepper Shakers
I never thought a salt and pepper shaker set could put a love spell on me, but here we are. The witch's shoe is for the pepper, while the hat is for the salt.
4
Shoes Off Witches Doormat
Don't be a witch, take your shoes off at the door ... or beware the homeowner's wrath.
5
Witch's Brew Candy Bowl
This "eerie" witch's cauldron can hold my Reese's Peanut Butter Pumpkins, for sure.
If a candy jar could speak to me, this is exactly what it would say. I mean, how can you argue with it? You can't. You just can't.
Brew me up a pot of whatever this witch is having, because I seriously don't think I've ever seen a more adorable Halloween-themed teapot.
8
Witch's Hat Chip & Dip Server
Host the party of the century with a little help from a witch's hat that serves chips & dip.
9
If the Broom Fits Halloween Decor
PSA: It's one-size-fits-all.