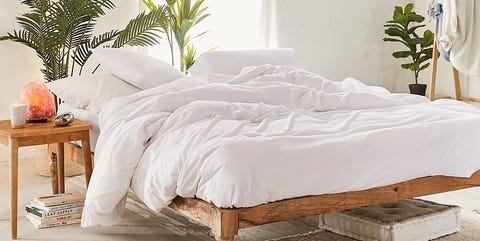 If you told me you'd been daydreaming about spending your nights curled up under Urban Outfitters' beloved jersey t-shirt bedding, I wouldn't blame you — I mean, same. Who doesn't want to feel like they're wrapped up in their favorite, most perfectly worn-in shirt? Well, now you can score the duvet cover (or comforter!) for 50 percent off, along with a few other fun home items — just wait until you see the adorable llama pillow that's on sale — thanks to Urban Outfitters' online-only deal of the day on fall favorites.
All of the home items from Urban's deal of the day are below, but the 50 percent off sale goes beyond home items, too, so if you're interested in shopping for clothes, beauty, and other lifestyle products (including !), you can .
1
T-Shirt Jersey Duvet Cover
$49.50 - $74.50
Cozy up under this customer-favorite duvet cover and dream your cares away. (Comes in 10 colors!)
2
T-Shirt Jersey Comforter
$84.50 - $109.50
Or if the duvet life isn't for you, try the comforter version, available in 5 colors.
$24.50
Okay, but this llama pillow is irresistibly adorable.
4
Connected Stripe Rag Rug
$12 - $114.50
Whether you need a 2' x 3 or an 8' x 10' (or any of the other standard sizes in between), this rag rug is on sale in all three colors.
5
Instax Matte Gallery Picture Frame
$14.50
And of course, what's a cozy room without some pictures to make it feel like home?