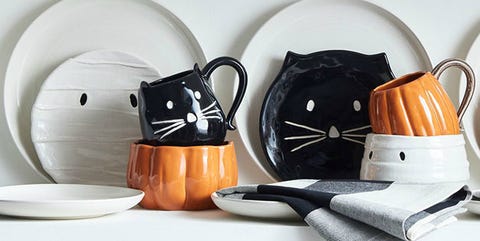 There are two kinds of people: Those who love the holidays and those who would hit "skip" if the entire season was a song on Spotify. If you're part of the second group, all that is about to change. Promise.
Fall may be weeks away, but several stores have started rolling out their Halloween Decor (like Target, Pier 1, and Sam's Club, ICYMI). And Pottery Barn is no exception. From hosting Halloween parties with mummy-ware and cauldron condiment servers to tricking out your front porch with lit witches brooms and jack o' lantern statues, you're going to want to go all out this All Hallows Eve, once you see PB's new lineup:
$29.50-39.50
Everyone knows of the classic Christmas villages, but who says light-up haunted mansions couldn't steal the show for Halloween?

$129
Featuring LED twinkle lights on the twig broom, the witch's broom looks like it's dancing.
3
Cauldron Condiment Servers
$59.50
You know what they say: "Double double, toil and trouble, fire burn, and cauldron salsa, French onion dip, and ranch."
$149
The witch is in, and she has treats, my friends.

$28
Seriously, could these pumpkin candles be any cuter? They come in a pack of two (one big and one small).
$699
I love this because it could absolutely be used year-round. You could load it up with pumpkins, flowers — you name it!

7
Trick or Treat Yourself Embroidered Pillow Cover
$49.50
TBH I'm always in for treating myself, especially to throw pillows.
8
Pumpkin Family Lumbar Pillow Cover
$49.50
Especially when they look like this.

9
Lit Galvanized Jack O' Lantern
$99
The best part about these jack o' lanterns? You don't have to worry about them dying.

10
Eat Drink and Be Scary
$99
This sign doesn't have to tell me twice! Plus, it's a 7.5" x 10.5" "framed Giclée reproduction on matte paper."
11
When Witches Go Riding Wood Sign
$169
Painted on white maple wood, this 16" x 22" Halloween sign is perfect to mount on the wall.
$19.50-59
Add some green to your sea of orange and black to help brighten your decor a bit.

$9.50
Okay, that matching bowl's almost too much.
$9.50
But no set would be complete without those plates. They really show you're serious about Halloween.
P.S. They come in black cat or jack o' lantern shapes, too.