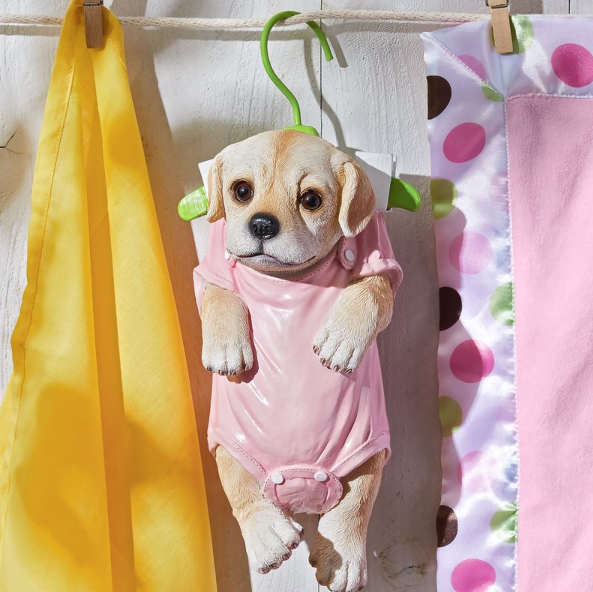 Wayfair has become a go-to site for people to shop for furniture, decor, and other home goods. Part of that is due to the huge range of prices—there's truly something there for every budget—but a lot of it is also due to the incredibly vast selection of products the brand has to offer. You name it, you can find it there, because Wayfair sells literally everything imaginable in the home sphere. And because the store has such an array to choose from (click through the shopping menu to the "Sofas" page and you'll get just shy of 15,000 results there alone), things are almost guaranteed to get weird at some point.
If you don't believe me, check out these delightfully wacky products—all of which are available to buy on Wayfair right now.
1
Pregnancy Test Cardboard Standup
Advanced Graphics
wayfair.com
$39.95
If you didn't know you could buy giant cardboard cutouts of just about anyone or anything, like this six-foot-tall pregnancy test, at Wayfair...now you know.
2
Bob Ross & Friend Standup
Advanced Graphics
wayfair.com
$39.95
If a pregnancy test isn't in your wheelhouse, can I interest you in a life-size cutout of Bob Ross with a squirrel on his shoulder?
3
Hanger Labrador Retriever Wall Décor
Design Toscano
wayfair.com
$33.38
One Miescisko editor described this hand-painted wall hanging as "the Hang in There Cat meme in resin dog-statue form."
4
Bigfoot The Bashful Yeti Tree Statue
Design Toscano
wayfair.com
$71.24
Wayfair also sells a shy yeti statue that can hide behind a tree, giving your conspiracy-theorist neighbor the sighting of a lifetime.
5
Giant Burmese Python Snake Statue
Design Toscano
wayfair.com
$454.86
You also have the option of terrifying everyone who attempts to walk across your yard with this almost 8-foot-long (and incredibly realistic) python statue.
6
Giant Male Gorilla Statue
Design Toscano
wayfair.com
$4,072.99
Or, you can really go all out and get an 8-foot-tall, 264-pound gorilla statue for your home. Where you'll put it, I'm not quite sure.
7
1-Person FAR Infrared Sauna
Radiant Saunas
wayfair.com
$173.99
Now that you've fully decked out your lawn with statues, relax by zipping yourself inside this portable one-person sauna.
8
Human Anatomy Chart Duvet Cover Set
East Urban Home
wayfair.com
$107.99
I don't know who this human anatomy chart-printed bedding is for, but it might come in handy for medical students?
9
Kim Kardashian & Justin Bieber Coffee Mug
East Urban Home
wayfair.com
$15.99
This questionable coffee mug seems to be referring to a photoshoot Kim Kardashian and Justin Bieber did together in 2010, if that helps clear up any confusion.
10
Coin-Filled Toilet Seat
Daniels Bath
wayfair.com
$114.99
Don't just sit on any boring old toilet seat when you could have this clear, coin-filled option that...well, I'm not sure what it will do for you.
11
Fishnets and Heels Sculptural End Table
Design Toscano
wayfair.com
$245.10
The more I look at this table, the more it grows on me. I'm not into it, but I'm not not into it, you know?
Loon Peak
wayfair.com
$113.99
When you get home from a long day at the office, just kick back and put your feet up on this faceless horse ottoman.
13
Upside-Down Artificial Christmas Tree
The Holiday Aisle
wayfair.com
$127.99
Everyone else can keep their right-side-up Christmas trees, this holiday season, you're ready to flip the script on tradition.
14
Porcelain Baby in Polar Bear Costume
The Holiday Aisle
wayfair.com
$17.99
And don't forget this must-have Christmas figurine of a baby (with unattainably long and voluminous eyelashes) wearing a polar bear costume.
15
Big Tree Fort Play House
HearthSong
wayfair.com
$209.99
This cardboard tree-shaped playhouse does seem like a weird find, but don't kid yourself—you'd have loved one of these as a child. I would have!