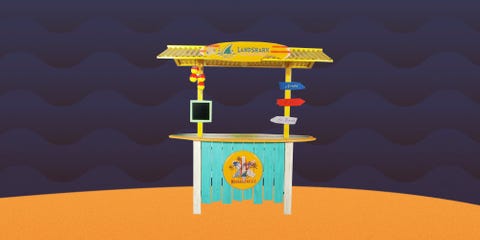 Certain songs just get to you. You can play it cool all you want, but then that drum solo for Toto's "Africa" hits — or you hear Rupert Holmes croon about liking piña coladas — and suddenly, you're belting out every lyric and dancing around the room. The same thing happens with Jimmy Buffett's songs, especially in the summertime. You don't need to be a Parrothead to appreciate the laid-back, Margaritaville lifestyle he's created. And with this swag, you can get that "it's 5 o'clock somewhere" vibe right in your backyard, 24/7.
1
Lime Outdoor Throw Pillow
Beachcrest Home
bedbathandbeyond.com
$19.99
It's heresy to suggest you've recreated Margaritaville on your deck if there isn't a slice of lime in sight. Remedy that ASAP with these throw pillows.
Margaritaville
amazon.com
$425.37
Officially called a "Frozen Concoction Maker," this beauty lets you blend three different icy drinks at once — making you the life of the party at every party.
3
Outdoor Adirondack Chair
Margaritaville Outdoor
amazon.com
$248.06
This chair's as low-maintenance as the Buffett lifestyle: You can wipe it clean with dish soap and water, thanks to the seven layers of paint protecting the poplar-wood base.
Landshark
margaritavillestore.com
$199.99
Sip JB's signature beer, play a game of cornhole, wonder why life can't always be this simple — and wonderful.
Margaritaville
wayfair.com
$1,089.99
If you're looking for a statement piece, this is it. It has every hallmark of the Margaritaville world: worn, Key West-style paint colors, decorative buoys (hello! It's nautical!), shoutouts to multiple Buffett franchises (Landshark! Margaritaville!), signs directing you to ALL of the beaches you could be at but aren't (So many beaches!), and a bar.
bedbathandbeyond.com
$55.99
Just because you're extra when you sing along to "Cheeseburger In Paradise" doesn't mean you want your furniture to be, too.
7
Outdoor Rolling Wicker Bar Cart
bedbathandbeyond.com
$199.99
You'd never guess this two-tiered bar cart is from Margaritaville, until you clear off all the drinks on top to reveal Buffett's catchphrase. Oh, and check out that storage drawer at the bottom, too. One less trip spent running back inside = more time to kick back with a drink.
bedbathandbeyond.com
$59.99
The price tag may seem steep for a floating beer pong table — even if it IS called Paradise Pong — but there's a reason for that, beyond slick marketing. It has a built-in Bluetooth speaker you can use to blast music (or answer calls), and it's embedded with solar-powered LED lights, so the party never has to end.
9
26-Inch Ladies' Cruiser Bicycle
bedbathandbeyond.com
$249.99
Of course Jimmy Buffett's bike comes with a cup holder. OF COURSE IT DOES. (And honestly, how brilliant is that?)
10
Salt & Lime Tray And Cutting Board Set
Jarden Home Environment
bedbathandbeyond.com
$21.99
No idea what happened to that lost shaker of salt, but when you're ready for a margarita, this set's got you covered.
11
Landshark Bottle Opener Sign
bedbathandbeyond.com
$49.99
It's wall art! It's a bottle opener! And, according to Bed Bath & Beyond, it's "perfect for both indoor and outdoors!" Good luck convincing your husband not to put this in every room of the house.
bedbathandbeyond.com
$55.99
There's no better way to kick back when you've blown out a flip flop than with this laid-back pool float. It's literally giving you license to chill.
13
Bluetooth Sound Splash Speaker
Margaritaville
walmart.com
$64.95
This portable speaker floats in the water, so you can take the party — or conference call — wherever you go. Ah, living the dream.
Этот важный веб портал со статьями про
www.cialis-viagra.com.ua
.
Был найден мной авторитетный сайт с информацией про
www.pills24.com.ua
.