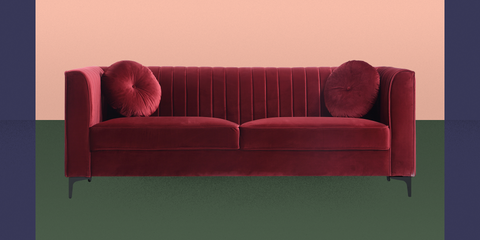 Couch shopping is one of the biggest furniture struggles there is — finding one that's somehow chic as hell and in your budget can make you want to scream into your throw pillows. Maybe you're obsessed with velvet sofas (I feel you!), or maybe you're in the market for a sleek leather couch, or maybe you just want the most luxurious sectional you can find. In any case, you can find your dream sofa in your budget, and to prove it, I scoured all your favorite online stores to find the most stylish sofas in every price range.
There's a little something for everyone here — a handful of sofas each under $500, $1,000, $1,500, and ultimately capping out at $2,000, in order from lowest to highest price. Whether you want to splurge a little or find a chic steal, this list has you covered.
Found: sleek, dark mid-century style for less than $400. Yes, really.
2
Red Traditional Velvet Sofa
It's almost unbelievable that a red velvet channel-tufted sofa this pretty exists in this price range. (Bonus: The accent pillows are included!)
3
Serta Artesia Sofa in Smoke
Bed Bath & Beyond
$460.99
This microfiber sofa with its smoky gray upholstery is cute and quaint for only $450.
4
Black Microfiber Sectional
Proof that you can, in fact, find a sectional on a $500 budget — and a chic one at that.
5
Laurel Lavender Sleeper Sofa
A little bit of texture and a pop of lavender make this sofa unique, and it folds down into a bed.
6
Forest Green Hillam Sofa
You could get this in other colors, but why would you when this forest green velvet is already oh so perfect?
7
Grey Hewitt Velvet Sofa
The curved silhouette of this sofa makes this one stand out from the pack, and it's still less than $900.
8
Sydney Recycled Leather Sofa in Black
Didn't think you could find a stylish leather sofa for under $1,000? Think again.
9
Chamberlin Recycled Leather Sectional in Brown
Urban Outfitters
$1,099.00
With a slightly more flexible budget, you can find a simple-but-chic leather sectional, too.
10
Samson Blush Velvet Sofa Lounger
Bet you didn't know you needed a pink velvet sofa until this very moment...
11
Eleanor Velvet Sofa in Burnt Orange
Urban Outfitters
$1,399.00
Or go for a subtle yellow-orange with this mid-century sofa.
This navy velvet channel-tufted sofa with lucite legs will make you feel like you're living in luxury.
13
Grey Canal Tufted Sofa
Urban Outfitters
$1,600.00
Get a glam, vintage-inspired look with this tufted sofa.
14
Modern Tufted Sofa in Orange Creme
Amazon
$1,704.00
$1,068.02 (37% off)
15
Cecilia Rose Velvet Sectional Sofa
Urban Outfitters
$2,199.00
Stretch out on this perfectly pink velvet sectional, still under $2,000.
16
Hamilton Leather Sofa in Mocha
And top out at $1,959 with this classic and comfy dark brown leather sofa.