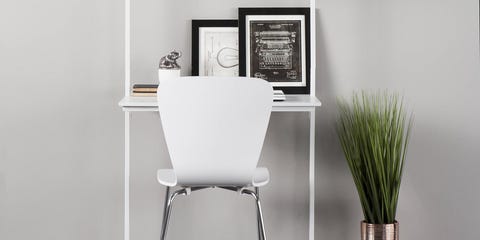 When you don't have a lot of space to begin with, finding a place where you can get sh*t done — whether that's work, homework, or craft projects — can be a bit of a challenge. But having a dedicated space for your work is crucial for being productive no matter what you're doing, which puts anyone living in cramped quarters in a bit of a bind. But no more.
Floating desks are perfect for even the smallest spots in your home — some of them are designed to go in unused corners, others fold up and out of the way when you're not working, and all of them give you the workspace you need, with some stylish flair, too. Now all you need is a cute desk lamp to go with it.
1
Rustic Fold-Away Chalkboard Desk
$139.99
This handy, rustic floating desk folds up and turns into a chalkboard you can write on when you're not working.
2
Haeloen Wall-Mount Desk
$105.09
If you have plenty of vertical wall space, a wall-mounted ladder desk like this one will give you a workspace and shelves to display your favorite things.
3
White Floating Corner Desk
$119.99
Or, take advantage of an unused corner and add a desk and cubbies with this wall-mounted unit.
$152.09
This desk folds up to look like a cool, geometric shelf — perfect for displaying knickknacks whether you're working or not.
5
Industrial Wooden Floating Desk
$118
Keep it simple with a wooden floating tabletop, like this one with an industrial flair.
6
Chaves Wall-Mount Corner Desk
$173.71
Another way to use your corner space: a floating desktop with cubbies for stowing away important things.
7
Fold-Out Wall-Mount Mirror Desk
$131.16
If a chalkboard isn't your style, maybe a desk that folds up into a wall mirror is.
8
Helix Acacia Ladder Desk
$249
For a ladder desk with more of a wood-meets-metal industrial feel, try this one with all its extra shelf space.
9
Wall Mount Folding Laptop Desk
$120
This floating desk folds up into a neat little box with a drawer underneath, giving you storage space for all your stuff.
$209.99
All you really need: a solid desktop and plenty of cubbies for stowing your work supplies away.