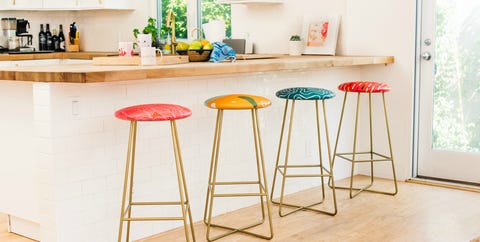 never disappoints. Since the decor company specializes in printing designs from artists all over the world on just about anything (tapestries, mugs, shower curtains, you name it), the brand quite literally has something for everyone. Plus, you can feel good about confirming that purchase because you'll be paying the independent artist who helped design it by doing so — what more could you want?
Now, the fun patterns and prints don't have to stop at your decor, because has released its first-ever furniture collection. While printing someone's designs on furniture may sound like a recipe for cheesy, OTT looks, this one's totally chic — and fun. The line consists of reasonably priced , , , , , and , which you can have topped with one of more than 1,000 designs. Check it out:
The bar stools are the "taller sibling to the ," writes. I personally love the vibe of these mixed and matched patterns, but you can always buy multiple of the same print — the choice is up to your design-loving heart. Especially since there are 1,000+ pattern/color options from which you can choose.
As if it weren't hard enough to choose a bar stool pattern from all the options, the same goes for the benches in this line. Though it's a blessing to have so many choices, it's not great for those of us who want to buy them all, AKA me.
Even the side tables are a work of art. made an effort to make these sleek pieces showstoppers, so that they're no longer the "sideshow" (their words, not mine, but totally accurate). They're all printed with a satin finish on birch wood.
Match a stunning birch coffee table to that end table you just bought. Or don't — go crazy and pick another print! Either way, you need both of these in your life.
This piece is a renter's dream: You can't paint the walls, but you sure as hell can make a statement with your furniture, thanks to the credenza line. Balance it out with some art in complementary colors, and you've got a great focal point for even the tiniest spaces.