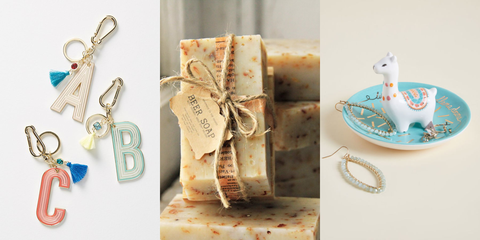 Anthropologie/Etsy/Modcloth
You don't have to spend all your money to show your loved ones that you appreciate them. These budget-friendly and totally thoughtful gift ideas are guaranteed to be some of the best birthday, anniversary, or "just because" gifts they've ever gotten.
Zodiac Catch-All Dish
This little trinket dish features their zodiac constellation on the lid and the positive traits of their sign inside.
Kitchen Essentials Herb Planter
Foodies will love these herb planters that will help them always have fresh flavors on hand.
Merlot Infused Coffee
Because why choose between wine and coffee? These coffee beans are infused with merlot, for the best of both worlds.
Floral Journal Set
For the friend who's always writing everything down, these floral journals are a stylish and thoughtful gift.
Mobile Photo Lens Kit
Your Instagram-obsessed friend or family member will love this mobile phone lens kit that will help transform their photos.
Beer Soap
$11.81, Etsy
This soap, made with beer and olive oil infused with hops, is the perfect gift for beer lovers.
Rose Quartz Wine Stopper
$24, Etsy

Whoever owns this natural stone stopper will actually want to resist drinking the rest of the bottle so they can show off their stylish accessory.
City Trinket Dish
$16, Anthropologie
These city trinket dishes are the perfect gift for anyone with a sense of wanderlust.
Rosé Carry-On Cocktail Kit
$25, W&P
Rosé all day, even on a plane, with this carry-on cocktail kit complete with roseé gummy bears and elderflower syrup.
Gold Sentiment Servers
$19.99, World Market
These gold servers are as stylish as they are honest, stamped with the phrases "fork it over" and "I'll take seconds."
Himalayan Salt Candle Holder
$8.99, Amazon

The soothing color is only half of this candle holder's beauty — it's crafted from natural crystal salt.
Monogram Keychain
$18, Anthropologie
A stylish keychain that's personalized, like these enamel monogram key rings, are always a fun idea.
Travel Shave Kit
$15, Urban Outfitters
For the person who deserves a luxurious-feeling shave, even on the go.
Floral Keepsake Box
$9.99, Modcloth
This floral box is perfect for stashing away jewelry or keepsakes in a safe, chic place.
Daily Questions Journal
$16.99, Urban Outfitters
Inspire your loved one with this five-year journal that prompts them with a new question every day.
Zodiac Sign Candles
$7.15, Etsy
Astrology fans will love these horoscope candles that are personalized for their zodiac signs.
Grow Your Own Cactus Kit
$4.99, Urban Outfitters
A cute little grow kit, made just for the aspiring green thumb in your life.
Variety Face Masks
$17.60, Anthropologie
Give your loved one a little bit of self-care help with a variety pack of soothing sheet masks.
Mindfulness Cards
$16.95, UncommonGoods
Speaking of self-care, these mindfulness cards will remind your loved one to do something nice for themselves whenever they need a pick-me-up.
Llama Jewelry Dish
$12, Modcloth
What's cuter than a little ceramic llama that holds jewelry? Nothing, that's why this gift will be a hit.
Tonic Eye Mask
$20, Anthropologie
A sleep mask is a thoughtful self-care gift, especially for the loved one that's always traveling and sleeping on planes.
The Little Book Of Cacti
$9.99, Modcloth
This little book contains everything you need to know to successfully grow cacti and succulents — certainly not a succ-ky gift.
Typography Soap
$10, Etsy
These fun little typography soaps are the perfect gift for a celebration (particularly the "yay!" bar) or for your sassiest loved one.
Scratch-Off Travel Log
$25, UncommonGoods
Frequent fliers will love this travel log that will let them scratch off all the places they've been to on the map.
Rose Bath Bomb
$4.99, Etsy
Not only are these bath bombs filled with skin-loving butters and oils, but the added rose petals will make the next soak a romantic one too.
Initial Necklace
$15, Etsy
Gift this personalized and dainty necklace to your most stylish friend and we guarantee you'll see her wearing it all the time.
Rabbit Super Wine Aerator
$13.93, Amazon

Speaking of wine, make Olivia Pope proud with a perfectly-aerated glass of red. Instead of waiting for the bottle to breathe, just pour (and pour again) a good-sized nightcap.
Chalkboard Cheese Markers
$15, Etsy
Next time your hostess sets out a gracious spread, everyone will know the difference between the cheddar and the Swiss.
Herbal Tea Gift Box
$19, Amazon
If your gift wrap skills leave something to be desired, just tie a bow around this colorful box — mission accomplished!
>https://nissan-ask.com.ua
www.nissan-ask.com.ua>https://nissan-ask.com.ua
https://nissan-ask.com.ua<