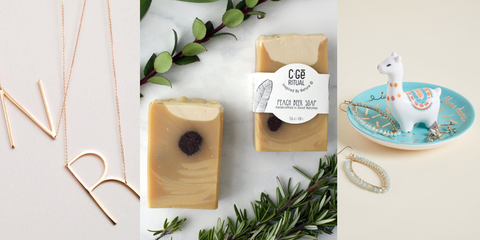 You don't have to spend all your money to show your loved ones that you appreciate them. These budget-friendly and totally thoughtful gift ideas are guaranteed to be some of the best birthday, anniversary, or "just because" gifts they've ever gotten.
City Trinket Dish
$16, Anthropologie
These city trinket dishes are the perfect gift for anyone with a sense of wanderlust.
Rosé Carry-On Cocktail Kit
$24, Urban Outfitters
Rosé all day, even on a plane, with this carry-on cocktail kit complete with roseé gummy bears and elderflower syrup.
Gold Sentiment Servers
$24.99, World Market
These gold servers are as stylish as they are honest, stamped with the phrases "fork it over" and "I'll take seconds."
Monogram Keychain
$18, Anthropologie
A stylish keychain that's personalized, like these tortoise-patterned monogram key rings, are always a fun idea.
Travel Shave Kit
$15, Urban Outfitters
For the person who deserves a luxurious-feeling shave, even on the go.
Floral Keepsake Box
$15, Modcloth
This floral box is perfect for stashing away jewelry or keepsakes in a safe, chic place.
Daily Questions Journal
$16.99, Urban Outfitters
Inspire your loved one with this five-year journal that prompts them with a new question every day.
Zodiac Sign Candles
$7.99, Etsy
Astrology fans will love these horoscope candles that are personalized for their zodiac signs.
Grow Your Own Cactus Kit
$12, Urban Outfitters
A cute little grow kit, made just for the aspiring green thumb in your life.
Variety Face Masks
$22, Anthropologie
Give your loved one a little bit of self-care help with a variety pack of soothing sheet masks.
Mindfulness Cards
$16.95, UncommonGoods
Speaking of self-care, these mindfulness cards will remind your loved one to do something nice for themselves whenever they need a pick-me-up.
Floral Journal Set
$16, Anthropologie
For the friend who always has paper for jotting things down: a stylish notebook set.
Beer Soap
$8.50, Etsy
This soap doesn't smell like beer per se, but it's made with beer and smells of malt-y, peachy goodness, with anti-inflammatory and moisturizing benefits.
Llama Jewelry Dish
$12, Modcloth
What's cuter than a little ceramic llama that holds jewelry? Nothing, that's why this gift will be a hit.
Mobile Photo Lens Kit
$24, Urban Outfitters
Your Instagram-obsessed friend or family member will love this mobile phone lens kit that will help transform their photos.
Tonic Eye Mask
$20, Anthropologie
A sleep mask is a thoughtful self-care gift, especially for the loved one that's always traveling and sleeping on planes.
The Little Book Of Cacti
$15, Modcloth
This little book contains everything you need to know to successfully grow cacti and succulents — certainly not a succ-ky gift.
Typography Soap
$10, Etsy
These fun little typography soaps are the perfect gift for a celebration (particularly the "yay!" bar) or for your sassiest loved one.
Scratch-Off Travel Log
$25, UncommonGoods
Frequent fliers will love this travel log that will let them scratch off all the places they've been to on the map.
Rose Bath Bomb
$4.99, Etsy
Not only are these bath bombs filled with skin-loving butters and oils, but the added rose petals will make the next soak a romantic one too.
Initial Necklace
$19, Etsy
Gift this personalized and dainty necklace to your most stylish friend and we guarantee you'll see her wearing it all the time.
Agate Wine Stopper
$14, Etsy

Whoever owns this natural stone stopper will actually want to resist drinking the rest of the bottle so they can show off their stylish accessory.
Rabbit Super Wine Aerator
$13.36, Amazon

Speaking of wine, make Olivia Pope proud with a perfectly-aerated glass of red. Instead of waiting for the bottle to breathe, just pour (and pour again) a good-sized nightcap.
Chalkboard Cheese Markers
$15, Etsy
Next time your hostess sets out a gracious spread, everyone will know the difference between the cheddar and the Swiss.
Herbal Tea Gift Box
$19, Amazon
If your gift wrap skills leave something to be desired, just tie a bow around this colorful box — mission accomplished!
'The Book Was Better' Candle
$20, Etsy
The scent is important, but sometimes a clever container is just as critical, especially when it sits out for everyone to see on a bookshelf.
'Roses Are Red' Wine Bag
$7.57, Etsy
If your go-to gift is a bottle of wine, take it up a notch with this clever poetry bag.
Floral Market Tea Towel
$24, Etsy
This simple watercolor tea towel will bring a little more cheer to everyday housework.
Himalayan Salt Candle Holder
$9.99, Amazon

The soothing color is only half of this candle holder's beauty — it's crafted from natural crystal salt.
>https://nissan-ask.com.ua
www.nissan-ask.com.ua>https://nissan-ask.com.ua
https://nissan-ask.com.ua<