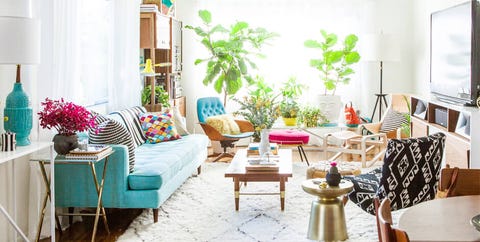 Laure Joliet/Style By Emily Henderson
If you've got an, ahem, "cozy" living room, you may be considering skipping a coffee table altogether, but these options are functional and gorgeous, without completely taking over the space.
$160
If you move to a larger space one day, this can double as a side table.
2
Warwick Sandalfoot Coffee Table
A basic white coffee table that looks anything but basic.
3
Great Heron Coffee Table
4
Mod Fret Clive Indoor/Outdoor Ottoman
For a boho vibe, try a patterned, bright fabric ottoman. Pop a tray on top when you want to serve drinks or snacks.
5
Stowe Round Coffee Table
Restoration Hardware style, without the price tag to match.
6
Pink Quartz Lirit Coffee Table
Here's how to make pink look grown up.
$199
Don't let lack of space limit your farmhouse decor dreams.
A bold pattern & color make a tiny table that much more eye-catching.
Simple, chic, and totally small-space friendly.
10
Aradhya Coffee Table with Casters
This two-tiered, industrial coffee table doubles your storage potential.