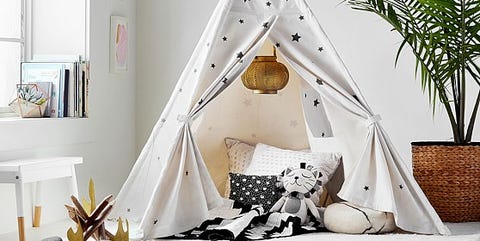 When it comes to designing the perfect playhouse, skip the mini wooden cottages and try out a teepee. They can be indoor or outdoor, are ridiculously easy to put up and move around, and won't cost you a fortune. We've got everything from glow-in-the-dark to color-your-own teepees on this list. Go wild.
Your kids will be way less tempted to draw on the walls when they can draw on their own teepee. That's all the convincing we need.
crateandbarrel.com
$159.00
Your creative kiddos deserve the most colorful teepee on the block.
Star Wars
target.com
$64.99
Yup, that's a mod take on BB-8. It's perfect for letting kids hide out from their parents in a galaxy far, far away.
4
White with Black Stars Tent
Even if they're stuck indoors, they'll feel like they're under the stars with this galactic teepee.
5
White with Pink Trim Teepee
This tent was made for glamping. And tea parties, which are basically the same thing.
Big enough to fit the whole fam — even if they don't actually want you in there with them.
Calling all Elsa fans! Even if it's hot AF outside, it's a winter wonderland in this teepee.
Pillowfort™
target.com
$75.99
The real fun happens after the sun goes down. Good luck getting them back in the house by bedtime!
The flags and windows add serious fun to a plain teepee. Bonus cool-parent points: Let them paint and customize the canvas exterior themselves!