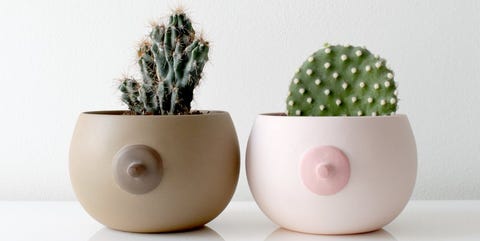 Staying abreast of all the new decor trends can be hard, so just in case you missed it, you should know that boob — yes, you read that right! — planters are a thing now. Well, they've actually been a thing for a while (Isaac Nichols of Group Partner has been making ceramic boob pots since 2013!) but lately, it feels like the boob-related decor trend has taken off even more. And honestly, I don't know about you, but I am so here for it — not to mention, it makes me wish I were better at keeping plants alive.
Boob planters are basically the perfect mix of cute, fun, and edgy, and they add so much personality (and a sense of humor!) to your home. So, if you also can't wait to get in on the trend, here are the breast — sorry, I mean best — boob planters out there.
Why not go all out and get a boob-shaped planter that's adorned with even more boobs?
2
Hand-Painted Ceramic Boob Planter
These little ceramic succulent pots come in two colors (white or brown) and they're just a little more subtle in the breast department.
3
Mini Dark Bronze Ceramic Boob Planter
This mini boob planter in dark bronze is so cute (it even has freckles!).
Nothing to see here, just some cute little cacti hanging out in a pair of perfectly round breasts. Totally normal.
5
Handmade Clay Boob Planter
This is the pot you need if you want to plant your plants in a bust with a full bust.
6
Gold Nipple Ceramic Hanging Boob Planter
If you'd rather hang your succulents, these mini boob planters will definitely do the trick. Plus, your uptight auntie won't even realize what she's staring at. At least not immediately.
7
Black and Gold Handmade Clay Boob Pot
This clay boob pot goes glam with its hand-painted gold nipples.
Hey buddy, my blooms are up here.
9
Terracotta Nip Planter Set
It feels appropriate that these terracotta nipple planters come in a pair, doesn't it?
10
Asymmetrical Breasts Planter
This unique planter has noticeably asymmetrical breasts — and honestly, that makes it even more lovely.
11
White Hanging Boob Planter
Forget brass and rose gold accents — gold nips are clearly trending right now.
12
Stacked Boobs Georgia Vase
And if you really want to splurge, there's always the iconic Georgia vase from Jonathan Adler — it features more breasts than all of the other planters on this list combined.