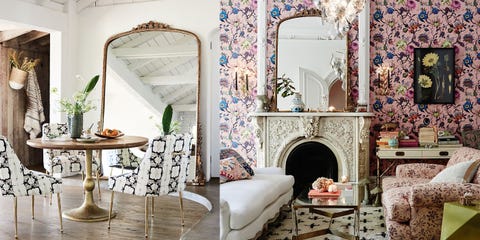 If I could snap my fingers and have one thing just magically appear in my apartment, it'd be Anthropologie's gleaming primrose mirror. The giant, 7' tall one, in gold. Truthfully, I've been daydreaming about this exact mirror for two whole years.
"So why don't you just buy it, then?" you ask. Alas, the gleaming primrose mirror in its largest size costs $1,348, which is more than my rent. And you can size down to pay a bit less, sure (the 5' tall option costs $798, and the smallest size, 3' tall, is $398), but it's not really a bargain, either. Certainly not the most expensive mirror on the market, but also not exactly wallet-friendly for those of us on a budget.
Nevertheless, this stunning mirror has become super popular over the last few years - you're pretty much guaranteed to stumble upon it on Pinterest any time you scroll through any pins about interiors, and it's a favorite among influencers. Bloggers Alaina Kaczmarski, Camille Styles, and Kristy Wicks have all styled it in their homes, for example (you can see it looking totally stunning in Wicks' home below!), and fashion designer and TV personality Lauren Conrad named it one of her Friday Favorites on her blog back in 2016.
It's easy to see why this mirror has become so popular — huge, wide mirrors like it are hard to find in the first place, not to mention in similar ornate, vintage-inspired styles, and it's one of those items that can make absolutely any space look luxurious and high-end. The good news is, if Anthropologie's gleaming primrose mirror is totally out of your price range, you can still get the look for less — there's no perfect dupe out there, but there are a few styles to choose from that get pretty close.
1
Gleaming Primrose Mirror
If you just have to have the original in all its gorgeous glory, head on over to Anthropologie to make your dreams come true. I'll be over here feeling incredibly jealous because you'll be living my best life, but it's fine. I'm happy for you, I swear.
BUY NOW $398 - $1,348, Anthropologie
Aesthetically, this mirror is pretty much the closest you can find to the gleaming primrose mirror without spending anywhere near as much as the original costs. You can get it in two sizes, 45" tall and 64" tall (so, a little bit bigger than the 3' and 5' Anthropologie options, respectively).
BUY NOW $279.20 - $463.20, Ballard Designs
Unlike the gleaming primrose mirror, this gilt mirror has a stand, so you can prop it up anywhere you want. Stylistically, it's pretty similar, though the mirror is more narrow and the frame is a little bit thicker. But, this one is just under 6' tall (and for the price of the 3' tall Anthropologie original!)
BUY NOW $399.84, The French Bedroom Company
4
Howard Elliott Tudor Floor Mirror
Again, this option is less luxuriously wide than the Anthropologie mirror, and the frame is thicker, too. But if you're dreaming of that 7' tall gleaming primrose, this one comes in a little bit taller (87") at less than half the price, and it comes in multiple color options.
BUY NOW $599.90, 1-800Lighting
If the smallest gleaming primrose mirror is what you seek but the $398 is still out of your budget, this mantel mirror is probably the closest you can get in shape and style. It's a little less ornate than the Anthropologie mirror, but it has a pretty similar vibe, and it's about $130 less the price.
BUY NOW $266.74, Houzz