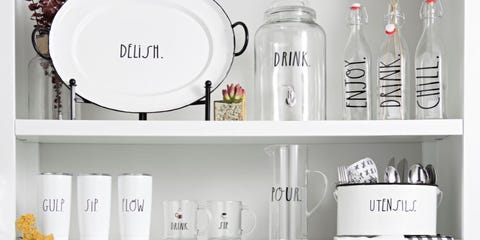 Finally being able to whip out my August 2018-December 2019 planner is fabulous, but marking down the dates to look forward to is even better. Lucky for me, I get to do both right away, and the first thing I did was circle August 17 over and over again.
On that day, the ceramicist with a HomeGoods-based cult following — Rae Dunn — will release her first-ever home line, exclusively at home decor store Kirkland's. The collection, which features 37 reasonably priced pieces ranging from $5.99 to $39.99, will offer pillows, frames, and cloches, in addition to her fan-favorite dishware.
"My art is a way for me to embrace the joyful, spontaneous elements of daily life. I don't strive for perfection in line and form in my work," Rae states in a press release. "I love the beauty of things imperfect, impermanent and incomplete, and this collection tells that story through and through. I have expanded my brand into home decor with this collection, but the black and white, clean style is still the focal point."
Let's just say this "perfectly imperfect" collection will have you marking your calendars ASAP (if you haven't already). Here's a sneak peek of what it will offer:
Classic Rae Dunn Ceramics
The simple black & white of Rae's ceramic pieces is seriously genius, but that lettering is seriously swoon-worthy.
COMING SOON
TBH, I would eat anything I was served off of this "delish" platter, but it might be best suited as a decoration since it's so darn precious.
COMING SOON
I never thought displaying utensils could look this good, but Rae Dunn has.
COMING SOON
"Grateful" Tin Drink Bucket
I'm so grateful for the rustic touch. Thank you, Rae Dunn.
COMING SOON
The simplicity is a gorgeous treat.
COMING SOON
Could the lettering be any cuter? This puts basic labels to shame.
COMING SOON
You'll never need a reminder to drink enough ever again. It'll just happen.
COMING SOON
"Refresh" Glass Water Bottle
Hydration at its finest.
COMING SOON
Have refills ever been so easy on the eyes?
COMING SOON
It's definitely 5 o'clock somewhere.
COMING SOON
Stemless Champagne Glasses
Yep, the champagne glasses are definitely speaking to me. Cheers!
COMING SOON
When I get my hands on all of these items, I will seriously become the best host in the world.
COMING SOON
"Glow" Cotton Swab Holder
Really? If my bathroom could look nice with cotton swabs out on the vanity, I'd cry.

COMING SOON
Terrarium, fairy garden, single cupcake display case — anything goes here.
COMING SOON
"Home Sweet Home" Centerpiece
Even on dark wood, this lettering pops.
COMING SOON
While these are perfect for year-round use, can you imagine how gorgeous the "bright," "twinkle," and "shine" candle holders would look among your holiday decor?
COMING SOON
Miscellaneous Picture Holders
I really hope these come in a set! I need all four.
COMING SOON
"Home Sweet Home" Throw Pillow
The pillows, no matter which phrase or word you get, matches perfectly with any aesthetic.
COMING SOON
They really do look cozy, not just adorable.
COMING SOON
I'm definitely getting more than one of these pillows. How about you?
COMING SOON
Place this on a mantle or bookshelf, sit back, and be #blessed by Rae Dunn's home collection.
COMING SOON