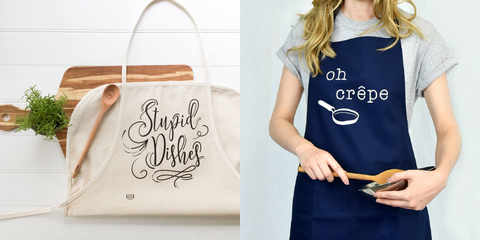 Cooking can get a little messy (okay, a lot), which is why an apron is always a good idea. Sure, any apron will do the trick, but you deserve one that's as good at making you — and anyone else who happens to see you in the kitchen — smile as it is at keeping you splatter-free. A little humor can make even the most daunting recipes more fun, so get yourself an apron that does punny and clever well. These aprons put the "kitsch" in kitchen in the best possible way. Plus, they make great gifts for your foodie friends.
1
'Turnip The Beet' Apron
For the cook who's always having a dance party in the kitchen.
2
'Bakers Gonna Bake' Apron
Not On the High Street
£29.00
Pairs well with cake and a Taylor Swift playlist.
3
'They See Me Rollin' Apron
Just what you need: an apron dedicated to the haters.
♫ Before the cream sits out too long, you must whip it ♫
5
'Pro In Prosecco' Apron
For those of you who cook with wine (as in, drinking it while you cook).
Because accidents happen, but puns always make it better.
7
'Let's Bake Some Sh*t' Apron
As in, what you'll say to your friends the second you put your apron on.
8
'Chop It Like It's Hot' Apron
You know the song's stuck in your head now.
Finally, an apron that gets you and your hatred of post-cooking cleanup.
10
'Donut Kill My Vibe' Apron
Krispy Kreme's got nothing on your kitchen with this apron.