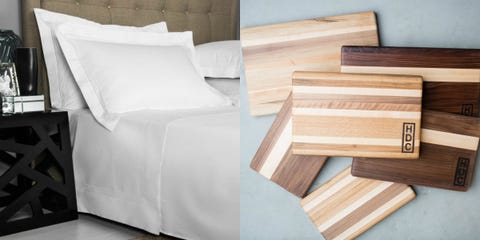 Ah, that wedding Pinterest board you've kept hidden for years is finally coming to fruition and you're getting married. Congrats! Now, instead of pinning more dream rings to a social media board, you've upped your game to actually saving items to your wedding registry (pinning can remain a side hustle, of course.)
Unfortunately, saving items on your wedding registry just doesn't seem as fun as aimlessly scrolling, pinning, and dreaming. Whether you agree, getting inspired to make a wedding registry of things you actually like is unarguably key. So, I spoken to several interior designers to see what their essentials would be and they will certainly give you some fabulous ideas. Of course, there are a mix of unique items and classics—a fancy throw or luxe bedsheets, for example, are an absolute must in all of their books. See what else they recommend below.
Interior designer (and interior design expert for Queer Eye for the Straight Guy) Thom Filicia knows a thing or two about making and transforming a home. So if you're searching for items you and your significant other can cherish for years to come, these recommendations are for you:
SHOP NOW
"I love to give artwork that speaks to the story of the happy couple, like Grand Salt Marsh or Venice Landscape from the Thom Filicia Home Collection."
Case of Wine from Their Engagement Year
SHOP NOW
"There's never enough wine...and one of my favorite wedding gifts is a case of wine from the vintage of their engagement. That way they can continue to celebrate by drinking a bottle of the wine for years after their wedding!"

SHOP NOW
"Great for serving wine, or any goodies for that matter, and celebrating with your family and friends, like the Pink Diamonds Mirrored Tray from Sedgwick & Brattle."
SHOP NOW
"A wonderful way to celebrate life's journeys that the new couple is embarking on together! My personal favorite is the beautiful Italian BRIC's luggage."
Luscious Blanket or Throw
SHOP NOW
"A perfect gift to remind the happy couple to enjoy the simple moments together! I love this reversible alpaca throw from Sedgwick & Brattle."

Kelly Wearstler's Recommendations:
As Kelly Wearstler says, "A home should be filled with pieces that inspire. It's the anomalies, the beauty in the unexpected mix of patterns, colors, silhouettes and rich, natural materials that bring a home to life." So, for her, the secret to choosing wedding registry items is this: "Think 'dream' items that will remain in the family as it grows...Only register for what you love!" In doing so, she adds, the couple's distinctive personality will shine through. Here are her suggestions:

SHOP NOW
"The bedroom is the most intimate and personal room and where you'll spend majority of your time at home. Nothing says luxury more than beautiful, quality bedding. The materiality should feel amazing to the touch. Splurge."

SHOP NOW
"An incredible dining room table is so much more meaningful than everyday registry items. It's a large, feel-good piece of furniture that will be the centerpiece for entertaining groups of friends and family."

SHOP NOW
"Whether minimalist, modern, vintage, a chandelier brings a unique story into a space with a singular, bold statement. There's nothing sexier than the right lighting."

Vern Yip's Recommendations:
As interior designer Vern Yip, often seen on TLC's Trading Spaces, shared, "In general, I'm a bigger fan of items that aren't on the typical registry." Here's what he recommends adding to your registry:
SHOP NOW

"This can be customized in a myriad of colors. It's beautifully handcrafted in Iowa of solid ash wood and is finished with a patent-pending finish that makes it virtually indestructible. I love the chic, rustic look that delivers from a performance standpoint too. It's one of my favorite gifts because it's a versatile serving piece for cookies, cheese, and just about any appetizer. Attached above is a photo that shows how it can be customized with the initials of the couple."
SHOP NOW

"For me, this is just about the perfect sheet set. Every couple should start out their life together with great bedding. Extra-long staple cotton makes it incredibly soft and comfortable while the versatile double-hemstitch detail fits nearly every design style. Plus, the available colors are both fresh and timeless though I suggest white or milk so that you'll have the flexibility to change up your other bedding components."
SHOP NOW
"If I could have only one throw, it would be this one. The Ajax throw has a two-tone bouclé texture, is a substantial 55" wide by 86" long (perfect for two people watching TV on the sofa), and is fabricated from a combination of 55% Cashmere and 45% Wool. The Tavern color, which sports several shades of white and gray, goes with everything and every decor."
SHOP NOW
"It's a practical, but also beautifully handcrafted gift that's made in the US from solid walnut."
SHOP NOW
"I love to give items that will only get better with age and these certainly fall into that category. I think it's nice to gift these items together."
SHOP NOW
"Every house needs a great vase and this is one of my favorites because it looks great empty or full. Plus, it's a design classic."
Alyssa Kapito's Recommendations:
New York City based interior designer Alyssa Kapito also knows a thing or two about finding special pieces and integrating them into your home in the best way. Conveniently, building a wedding registry requires thinking about items—big and small—that you can use for years to come. Here are Alyssa's wedding registry essentials:
SHOP NOW
"I love this fun crystalware for a pre-dinner cocktail or as water glasses on your tablescape. I always love a little green on a table."

SHOP NOW
"These minimal coasters are a great classic, just simple functional and chic. They have a wonderful finish to them."
SHOP NOW
"Every home needs a really beautiful throw and this one is a classic."

SHOP NOW
"This cutlery is a fun take on your casual everyday tableware. They come in all different colors."

SHOP NOW
"These splatterware canisters are a favorite for kitchen storage. They add just a touch of color and whimsy."