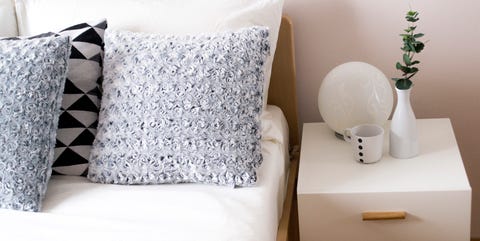 undefined undefined
Getty Images
A well-stocked, well-decorated nightstand may not necessarily be the key to a good night's sleep, but if you fill your bedside drawers (and tabletop!) with items that look beautiful and help you snooze more comfortably, it can't hurt. From the true essentials—you know, a lamp, an alarm clock—to the luxe, treat-yourself items like a silk sleep mask and an essential oil diffuser, here's everything you should be keeping on your bedside table.
1
Add a Bedside Lamp
Rivet Gold Table Lamp
First thing's first: no bedside table is complete without a lamp, perfect for setting the mood and reading before bed. This one's fun design? Just a stylish bonus.
2
Relax with Essential Oils
Vitruvi Stone Diffuser
A diffuser like this stoneware beauty can perform double duty by adding moisture to ultra-dry air and helping you unwind with the power of essential oils.
3
Hit Snooze
Charlie Gold Alarm Clock
You could use your phone as your morning alarm, but using a good old-fashioned alarm clock can help curb any checking Instagram before bed habits you might have.
4
Make Your Tissues Chicer
Snow Angel Tissue Box
Having tissues on your nightstand is always a good idea, especially in winter when you're prone to the sniffles. Jazz up your tissues with a decorative tissue box cover to keep things stylish.
5
Stash a Sleep Mask
Slip Silk Eye Mask
You'll sleep sounder with a light-blocking sleep mask, especially one as luxe as this silk one from Slip. Keep it in your bedside drawer for ultimate relaxation when you turn in for the night.
6
Add a Phone Stand (and Fresh Flowers)
Bedside Smartphone Vase
This sleek vase is the perfect multitasker for your nightstand, since it can hold flowers and charge your phone while you snooze.
7
Use a Catchall Tray
Eyes Valet Tray
A trinket tray is the perfect addition to your bedside table, especially if you take off your jewelry while you sleep and need a place to stash them for safe-keeping.
8
Curl Up With a Good Book
Kindle Paperwhite
If reading in bed relaxes you, keep your latest read on your nightstand—whether it's in actual physical book form, or on a Kindle full of your favorite novels.
9
Keep a Notebook Nearby
Tied Zora Journal
You never know when inspiration will strike or when you'll remember something important you almost forgot about, so keep a stylish journal in your bedside table for those moments.
10
Use a Sleep-Inducing Spritzer
Twilight Body Spray
Much like Lush's cult-favorite Sleepy lotion, this spray has been known to help people fall asleep faster and sleep deeper. Keep it on your nightstand and give yourself a spritz before bed, and you'll be dozing off in no time.