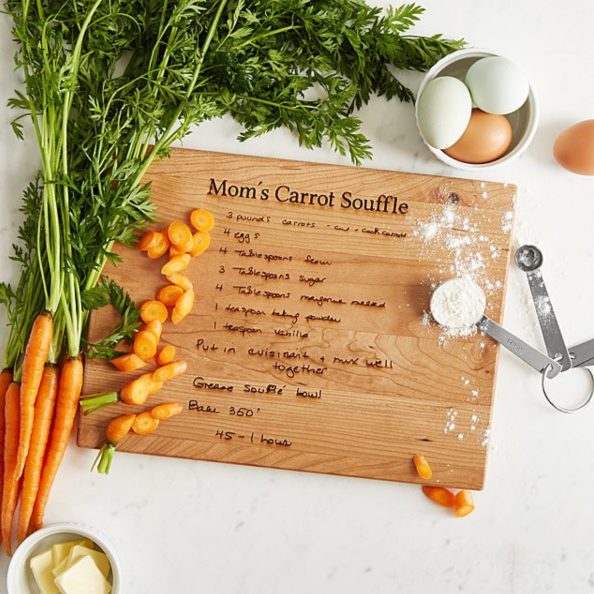 Your mom means so much to you, so make sure your Mother's Day gifts are as thoughtful as she is. With personalized touches, from monograms to jewelry made from your own handwriting, these gifts are as sweet as they are stylish—meaning she's guaranteed to love them.
Custom Handwriting Bracelet
IMEJEWELRY
etsy.com
$28.00
Write your mom a quick note, snap a pic, and send it to this Etsy seller to turn your words into a thoughtful and beautiful bracelet she'll never want to take off.
Family Recipe Cutting Board
uncommongoods.com
$140.00
Take your mom's favorite go-to recipe (or even her mom's!) and turn it into a cutting board engraved with her actual handwriting—she'll think of you every time she's in the kitchen.
Custom Mother's Day Portrait
TeiraDesign
etsy.com
$90.00
Commission an illustrated portrait based on any photo you love of your mom, frame it, and give her her new favorite piece of art.
Charging Bracelet
$149
This stylish gold bangle bracelet can be monogrammed for personalization—but not only that, it also doubles as a phone charger. Yes, really.
Gold Initial Necklace
KESTJewelry
etsy.com
$23.80
Add your mom's initial and those of you and your siblings to this stylish necklace, and she'll be able to carry a little bit of each of you with her every day.
Custom Silhouette Art
Turn a portrait of your mom (or the kids!) into a silhouette art piece in whatever color you prefer, whether you want to keep it sleek black or soft pastel.
Monogrammed Jewelry Box
This modern jewelry box will look stunning on her dresser, and you can add a touch of personalization with a monogram.
Nicole Fuller Stationery
dempseyandcarroll.com
$60.00
Mom love snail mail? Splurge on her with a set of stationery that's almost too pretty to send, like this new line by Nicole Fuller for Dempsey & Carroll, which can be personalized with her name or monogram.
Tea Time Monogram Mug
If her morning always starts with a cup of tea or coffee, give her a beautiful mug with her initial to enjoy it in.
Personalized Glasses Case
If she wears glasses, she'll appreciate this personalized double glasses case, which features room for her regular frames and her sunglasses—much easier to carry that way.
Keys to Mom's Heart Locket
It may not have a monogram, but you can personalize this necklace by the number of keys you choose—to represent each of mom's children.
Custom Mother Definition Print
LillybethDesignsArt
etsy.com
$10.26
This sweet print defines "mother" as both a super hero and a saint, but you can add a personalized detail by changing the "See also: section to say your mom's name. Plus, it's an instant download, so it works for a great last-minute gift, too.
Personalized Yarn Bowl
If she loves to knit, get her this name-engraved yarn bowl that will keep her yarn and needles tidy while she finishes up that sweater.
Zodiac Necklace
potionumber9
etsy.com
$29.00
Personalization doesn't always have to mean monograms and names—if she's into astrology, you can also personalize a gift with her zodiac sign. Might we suggest this stunning constellation necklace?
Leather Jewelry Roll Up
For the mom who's always on the go, try this personalized leather jewelry wrap that will hold all of her favorite necklaces, bracelets, and earrings and keep them safe in her luggage.
Monogrammed Cozy Throw
Give her the gift of coziness with West Elm's ultimate cozy throw, which you can, of course, have monogrammed or personalized with her name.
Personalized Mom Candle
DefineDesignEtc
etsy.com
$23.00
For a little something sweet, give mom this personalized candle, which says "best mom ever" on the label and "lighting my path since..." on the lid—just personalize the lid with her name and the year you were born.
Tiled Margot Monogram Coaster
Coasters are always a useful gift, and you can get options personalized just for your mom or for the whole family with these stylish monogram tile coasters.
У нашей компании авторитетный веб сайт , он описывает в статьях про
Купить Камагра Soft
.
Наша организация предлагает
www.buysteroids.in.ua
недорого с доставкой.
В интеренете нашел классный web-сайт , он рассказывает про защита двигателя ситроен
www.karter-kiev.net