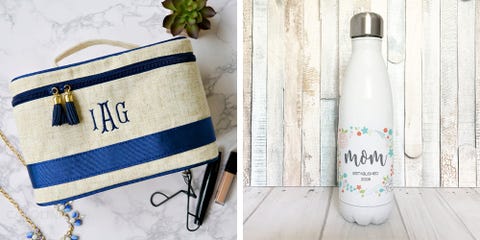 CarolinaDandy + juniperwylde on Etsy
Show your mom just how much she means to you this Mother's Day with a gift that's as far from generic as you can get. Whether you add a monogram, her family name, or the year she became a mom, all these details will add an extra personal touch that she'll adore.
Rose Black Marble iPhone Case
$35
Give her a chic accessory that she can use every day, and it will help her remember just how fabulous she is in your eyes.
Leather Luggage Tag
$35
If your mom's always on the move, give her a sleek, stylish tag to hang on her suitcase.
West Elm's "Coziest Throw"
$39
It's impossible to own too many snuggly blankets — especially ones with Mom's monogram on it.
Insulated Water Bottle
$24
Not only will this adorable bottle help keep your mom hydrated, but the customization will also put a smile on her face.
Custom Mum Print Portrait
$18 and up
A hand-drawn portrait of your mom, featuring her biggest passions in life, will show her just how well you know her.
Monogrammed Classic Balloon Wine Glasses
$40 for 4
Your favorite wine lover will never have to worry about someone stealing her glass of red, thanks to this lovely engraved stemware.
Monogram Train Case
$34
Navy blue and monograms make the ultimate pair, so this cute travel bag is an instant classic.

Williams-Sonoma Gold Monogram Mug
$13
The gold color, playful font, and trim add up to one adorable mug everyone will know is Mom's and Mom's alone.

West Elm Mid-Century Jewelry Box
$79
Your mom will love tucking her treasures away in a classic lacquered box, monogrammed with her initials.
Mark & Graham Colorfield Ear Bud and Charger Holder
$35
Keep her headphones tangle-free in a brightly-colored case, easy to find in a gym bag or purse.
Monogrammed Towel Set
$88 per set
Pamper Mom with luxurious, personalized linens for her next spa day.
Personalized Coaster Set
$25 for 6
Custom coasters make family gatherings one-of-a kind.

Clare V. Jewelry Pouch
$75
Help her corral her jewelry with a customized drawstring bag.
Pottery Barn Classic Terry Robe
$119
It's always a spa day when this robe hangs in your mom's closet.
Fiesta Stationery Thank You Notes
$17 for 20
A handwritten note deserves personalized paper, like this colorful set.

Graphic Image Crocodile Embossed Leather Jotter
$40
Embossed cards make on-the-go notes extra special.
Mark & Graham Daily Leather Wallet
$80 and up
Not only does it look luxurious, this handy wristlet also has an outside pocket for a smartphone.
У нашей компании авторитетный сайт , он описывает в статьях про
https://sribnapidkova.ua
.
Этот важный web-сайт , он рассказывает про Грузовой аккумулятор A-Mega
https://220km.com