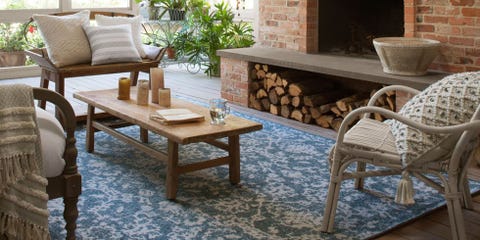 Every Fixer Upper fan knows how much Joanna Gaines loves shiplap and subway tile, but that doesn't mean her style is predicable. The HGTV star is constantly pushing herself and her designs— and now she's encouraging all of us to do the same with her new line of Magnolia Home rugs that hit all the trends (fringe, mud cloth, you name it). Joanna's personal favorite (at least, according to her Instagram) is one of her new Holloway rugs. As for us, we couldn't pick, so we decided to share all of the styles we're pining over right now.
1
Warwick Black Silver Rug
$59 and up
SHOP NOW
Joanna's Warwick Collection is her first indoor/outdoor collection and promises to bring indoor quality coverings outside of the home. Her secret? It's made out of polypropylene, which is UV-, mold-, and mildew-resistant.
$439 and up
SHOP NOW
The Ophelia collection is filled with historic patterns in a color palette made for today, specifically jewel tones. This light blue design is soft and serene, but far from boring.
3
Ophelia Ivory Multi Rug
$439 and up
SHOP NOW
As for the multi-colored pattern on this rug, it has the ability to infuse color into a neutral room, without overpowering a soft palette.
4
Holloway Black Ivory Rug
$139 and up
SHOP NOW
Every item from the Holloway Collection is hand-woven to bring texture and warm neutrals to the home. This design in particular is all about the fringe (and Joanna's favorite!).
$59 and up
SHOP NOW
Here's another one of her indoor/outdoor rugs. Every design from this collection was inspired by mud cloths, which as you can see strikes the perfect note on a screened-in porch.
6
Ella Rose Stone Blue Rug
$119 and up
SHOP NOW
Named after her daughter, this collection is a modern interpretation of traditional Persian styles and is intentionally faded to look vintage. This pattern would work in both classic and contemporary homes.
$439 and up
SHOP NOW
Another jewel-toned addition to the Ophelia Collection is this aqua number that steals the show in this modern and vibrant dining room.

8
Holloway Navy Ivory Rug
$139 and up
SHOP NOW
This navy and ivory hand-woven design will add a nautical touch to any room, but we recommend it for bedrooms. After all, how amazing must it feel to step on that soft surface every morning?