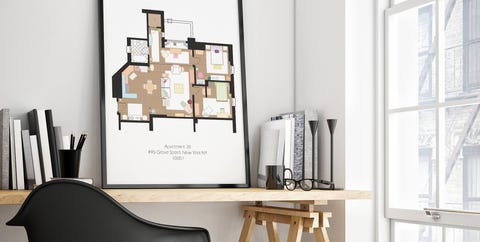 Choosing the right thing to hang on your wall isn't ER-doctor-level stressful, but there is a certain art to picking out things you don't get bored of three months after putting them up. One can only have so many photos of Sergeant Picklepants The Fluffy Cat — at least, that's what our so-called "friends" keep saying — and you want things that actually reflect who you are, not generic hotel-room abstract painting after generic, hotel-room abstract painting.
That's what makes these floor plans so ingenious. At first glance, they're artsy and cool, but come a little closer, and people get to see your nerdy side. And you know what? Your nerdy side is pretty damn awesome, if we do say so ourselves.
TVfloorplans
etsy.com
$49.00
Talk about a house with swagger. The Golden Girls know how to live it up — as you can see from their epic home. This design doesn't phone it in, either. If you look closely, you'll see Dorothy's slouchy boots on her bedroom floor and Blanche's banana-tree headboard. NEED.
Choosing just one spot to pay tribute to in Gilmore Girls is tricky. Do you go with Luke's Diner, Lorelai's house, the Dragonfly Inn?! You don't have to choose — Etsy user TVfloorplans sells all of those options, plus a map of Stars Hollow. And you can buy them all in a five-poster pack, in case you're planning some sort of really dramatic gallery wall.
AshleeLaurenPrints
etsy.com
$11.27
If the standard floor plan isn't colorful enough for your tastes, check out Ashlee Lauren Prints. Her take on Joey's and Chandler's apartment from Friends is pretty spot-on, down to the double recliners in the living room. Monica's apartment is also available, if you're into purple doors.
TVfloorplans
etsy.com
$36.50
Whether you're a fan of the original or a ride-or-die who binges Fuller House too, you can't go wrong with this sketch of Danny Tanner's brownstone in San Francisco. Every room is exactly how you remember it.
Normally, the last thing you want to think of when you walk through the door at the end of the day is the office — unless it's the NBC show. This outline of Dunder Mifflin is insane. Check out the stapler encapsulated in Jell-o, the mind-control coat rack, and Pam's origami doves.
TV shows aren't the only ones getting the architectural treatment. Ellie and Carl's house from Up can also be found on Etsy; just try not to tear up as you go from room to room, remembering the surprising tearjerker.
The best part about this Big Bang floor plan, featuring Sheldon and Leonard's apartment, is all of the episode references tucked inside. They've marked the flight suit in Leonard's room, the guys' action figures — even Sheldon's favorite spot on the couch!
As much as Jack and Sharon pick on Grace Adler's style, you've got to admit, the interior designer knows a thing or two about creating a sick apartment. Pay homage with this incredibly detailed design.
QualityLootCom
etsy.com
$51.60
The show may be about nothing, but that doesn't mean it meets nowhere. This floor plans for the true Seinfeld superfan: It was carefully designed to mirror where everything was on the show, from the couch Poppie infamously pees on to the faucets in Jerry's bathroom. (Sadly, George's toilet book doesn't earn a spot there, but the print is customizable!)
If you can't choose between individual floor plans, don't worry — Etsy user TVFloorPlans also features maps of the entire fictional towns from certain shows, like this map inspired by Twin Peaks. The Timber Falls Motel, Big Ed's Gas Farm, Laura Palmer's house — it's all here.