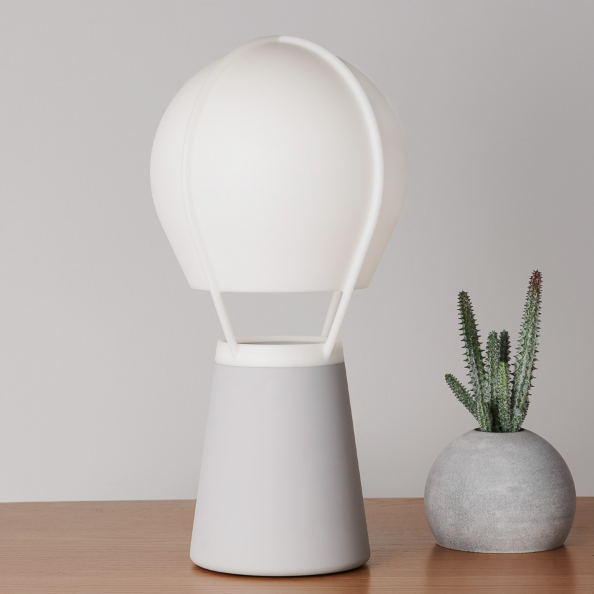 Everyone tends to lean toward a certain style or two maybe you love all things industrial, or maybe you just can't resist the mid-century look. Maybe you even fall somewhere in between. In any case, it can be challenging to find pieces that are unique and interesting but also suit your style. And items like table lamps, especially, can be difficult to find—not that there aren't tons of cool lamps out there, but if you want something that feels fresh and new, you have to find the right places to look.
No matter what your style is, there's a unique, statement-making lamp out there for you. These options include interesting shapes, bold colors, and playful details that pack a punch of personality into any room. And as a bonus, there are plenty of options on this list that would work well in a kid's room, too. There really is something for everyone here.
1
Fumi Table Lamp Ensemble
The curved gold base on this lamp is to die for, and you can add a little fun by choosing a different color shade (it also comes in pink!)
Opalhouse™
target.com
$37.99
Rattan isn't just for beach houses—this lamp can easily fit in any boho space, and the pink and gold lampshade adds a fun bit of color without going overboard.
3
Sphere + Stem Table Lamp
The glass globe on this marble and brass table lamp practically looks like it's floating.
4
Nifty Modern 3-Leg Lamp
crateandbarrel.com
$69.00
With three legs and a bold blue color scheme, this isn't your average table-meets-desk lamp.
5
Glass Pineapple Table Lamp
Opalhouse™
target.com
$44.99
Glass, brass, and personality—this cool, elegant pineapple lamp has it all and then some.
Put this on a table—or mount it to a wall, since the base can double as a floating shelf—but either way, this faux-spotlight lamp is a fun addition to any space.
MOAK
gantri.com
$148
BUY NOW
This whimsical stunner, designed to look like a hot air balloon, is actually 3D printed, and comes in three different colorways.
8
Marset Bicoca Portable Table Lamp
Caution: Objects in photo are tinier than they appear. No actual caution needed though, because these adorably small lamps (just 9 inches high!) will brighten up any room.
These three coordinating lamps (the Denali, Mima, and Kanamota) are named after mountains—though they also look like little people—and look great separately or arranged together.
10
Ceramic Nature Rabbit Table Lamp
Go for a fairytale vibe with this rabbit lamp. The ears popping up over the lampshade? Irresistibly cute.