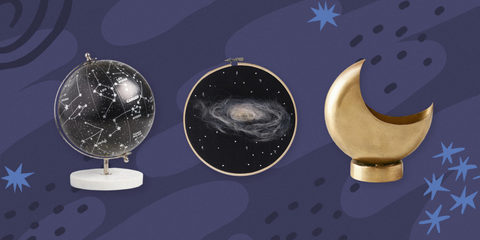 Sometimes you just need a little space — as in, outer space-themed decor so you can live your best (celestial) life. From fun wallpaper featuring starry constellations to glowing crescent moon lights and all the galaxies, nebulae, and planets in between, you can turn your home into something ethereally cool. Perfect for kids' rooms and adults alike, this space decor is sure to rock your world. And possibly your whole universe.
1
Constellation Map Wallpaper
$28
Now you can count stars and find constellations while you lay in bed.
2
Geo Moon Light Sculpture
$34
Set the moon ... uh, I mean, mood ... with this stunning crescent moon light.
3
Lobster Nebula Serving Tray
$37
You can add a whole galaxy's worth of color without it overpowering a room, thanks to this nebula serving tray.
4
Zodiac Constellation Catch-All Dish
$8
Have a little astrology alongside your astronomy with these adorable little catch-all trays featuring the constellations of the zodiac.
5
Moon Phase Over-The-Door Hooks
$39
You'll never forget the phases of the moon — or your purse — again with this over-the-door organizer.
$24.99
Who says globes are limited to Earth's geography? This one will show you the stars instead.
$14
You'll be over the moon for this little bronze planter, perfect for succulents.
8
Celestial Art Print Set
$12
This set of three planetary prints will look perfect side-by-side on a wall that's just begging for an art update — plus, they're digital files, so you can print them to be whatever size you need.
$50
This felted, hand-embroidered galaxy art hoop will look astronomically good on your wall.
10
Moon & Star String Lights
$18
Add a celestial glow to your home with these moon and star string lights made with gold wire.
11
Helix Nebula Wall Clock
$30.99
This wall clock gives a whole new meaning to the concept of space and time.
$79
The cut-outs on this pendant light look beautiful as-is, but when the light is on in the dark, it'll project stars everywhere.