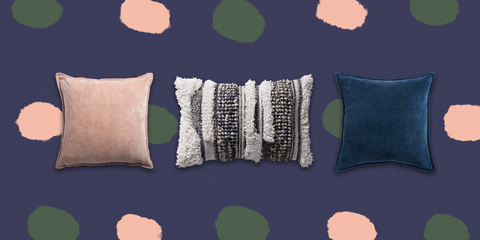 Your throw pillows may be adorable, but if they get relegated to the other side of the couch (or the basket, or the floor ... ) every time you're ready to cozy up and watch a movie, they're probably not comfortable enough. If you want pillows that are as nap-able as they are stylish, you'll need to go for softer, squishier, snugglier fabrics. Fleece, velvet, chenille, and faux fur are all great options, not to mention things like chunky knits (and chunky knots!) and, yes, even some cashmere.
Warning: Extreme coziness ahead. May cause drowsiness or lead to serious spending.
1
Amped Fleece Fringed Throw Pillow
2
Stone-Washed Velvet Square Pillow
Sure, the distressed, stone-washed finish is cool, but more importantly, you won't be able to stop touching this soft velvet.
3
Chunky Knit Throw Pillow
I can't think of anything cozier than a chunky knit wool blanket, except for an extra-squishy pillow made just like one.
4
Marisa Tipped Faux Fur Pillow
When you're trying to get warm and comfy on the couch, you can't go wrong with soft, shaggy faux fur.
5
Chenille Knit Color Block Pillow
Squishy, soft, and stylish are the three words that come to mind with this pillow.
6
Cable Knit Throw Pillow Covers
Imagine if your favorite sweater was turned into a pillowcase — sounds amazing, right?
7
Two-Toned Cream Faux Fur Throw Pillow
The texture on this silky faux fur is interesting to look at and great for snuggling.
8
'Stay Home' Fleece Throw Pillow
As in, what you'll be doing more of once these throw pillows are on your sofa.
9
Jersey Criss-Cross Throw Pillow
This is like if your softest sweatshirt was turned into an ultra-squishy knot pillow, but filled with the added cozy factor of a down pillow insert.
10
Geometric Cashmere Throw Pillow Cover
Cashmere and comfy are basically synonymous, and this pillow cover has a fun, subtle geometric detail to boot.