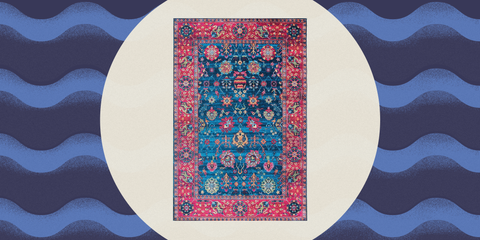 Area rugs can really pull a room together, but cleaning them can sometimes be a challenge, especially if you don't own a carpet cleaner. Sure, you can hire a professional or rent a machine to do it yourself, but there's another alternative: Buy a rug you can just toss in your washing machine instead. Yes, those exist—and yes, it is life-changing. Seriously, imagine a world in which you spill something on your rug and and can just blot the stain, pick it up, pop it in the wash on a gentle cycle, and hang it out to dry, all stress-free.
Every rug on this list is machine washable, so they're perfect for homes with pets or kids, or really, anyone who's worried about accidental spills and messes. And as a bonus, many of these rugs are on the more affordable side, so you can find the perfect rug that suits your style, your budget, and your cleaning routine. It's as easy as doing a load of laundry (and you don't even have to do any folding afterwards!)
Lorena Canals
urbanoutfitters.com
$325.00
Along with its cute design and fringe details, this rug is 100 percent cotton and, like all Lorena Canals rugs, is designed to be light and flexible enough to go in the washer.
2
Noor Sapphire Washable Rug
Ruggable
amazon.com
$120.65
Ruggable machine-washable rugs come in a two-piece set: A rug cover (the decorative part) and a rug pad. When you need to clean it, just remove the rug cover and pop it in the washing machine.
3
Happy Prism Washable Rug
Oh Joy! for Lorena Canals
$240.50
This adorable pastel rug is perfect for adding a little extra color to a room, and it can be easily washed in the machine on a delicate cycle.
4
Kenya Fleece Area Washable Rug
Yep, this plushy, geometric fleece area rug is slip-resistant and can actually go in the washer.
5
Traditional Vintage Washable Rug
Mylife Rugs
amazon.com
$61.99
Mylife's washable rugs are slip-resistant, fade-resistant, and non-shedding, too—and this vibrant pick is a gorgeous statement piece, too.
6
Cadiz Espresso Washable Rug
Ruggable
amazon.com
$109.00
Another option from Ruggable, this two-piece rug pad and cover set (with its eye-catching, intricate pattern!) can also be used indoors and outdoors.
7
Machine Washable Faux Sheepskin Area Rug
8
Brumlow Mills Gustavo Area Rug
bedbathandbeyond.com
$139.99
For something a little darker with a traditional pattern, try this damask print area rug, made with machine-washable nylon.
9
Suzi Coral Washable Area Rug
Another Ruggable option, this bright, floral-patterned rug adds just enough color without being too loud, if you're looking for something more subtle.
10
Early Hours Overdyed Tufted Washable Rug
Lorena Canals
urbanoutfitters.com
$349.00
This washable rug comes in a deep, bold blue color scheme, but also features some cool textural elements with plenty of tufting and fringe.
11
Kasbah Denim Indoor/Outdoor Rug
Dash & Albert
annieselke.com
$2,844.00
Don't let that lush, shaggy texture fool you—this beautiful indoor/outdoor Moroccan latticework rug can go in the washing machine, too.
12
Machine Washable Distressed Area Rug
Mylife Rugs
amazon.com
$93.49
Another option from Mylife, this blue distressed rug will look perfectly soft and moody in any room, and is easy as pie to clean.
13
Two-Tone Rope Black/Ivory Indoor/Outdoor Rug
Dash & Albert
annieselke.com
$3,674.00
For something more neutral, this two-tone washable rug works both indoors and outdoors and features a pattern that looks a little like a chic optical illusion.
14
Modern Bohemian Reversible Area Rug
Secret Sea Collection
amazon.com
$89.99
This reversible low-pile area rug features a bold orange and black color scheme, but you can also score it in turquoise and orange, charcoal and orange, or navy blue and orange.
15
Tabriz Red Traditional Non-Slip Washable Rug
This stunning red and gold number features a non-skid back, and is fade and wear-resistant—plus, you can also find it in a soft light blue or neutral brown color scheme, too.