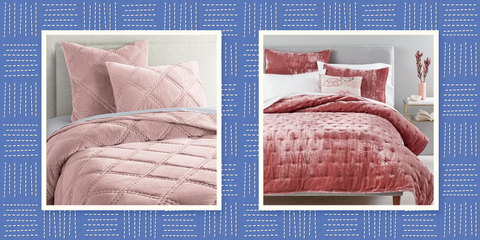 Quilts are basically the most versatile piece of bedding you can buy—they're light enough to be used on their own even on a warm summer night, and great for adding an extra layer of coziness when things get chilly. Plus, there are all sorts of fabric variations out there, from jersey cotton to linen to velvet, all of which add their own comfy vibes.
If you're in the market for a new quilt (no matter what season it is!) these are some of the coziest quilts you can buy online, whether you're looking for something glam and luxurious or something a little more worn-in and textured. And if you're more of a big, fluffy comforter kind of person, don't worry, we've got you covered there, too.
$249 - $269, Parachute
The linen front and percale cotton back give this quilt a cozy, lived-in texture and softness that's breezy and light in the summertime, and warm and toasty as an extra layer in the winter.
2
Velvet Tack Stich Quilt
$199 - $299, West Elm
Is there anything more luxurious than a velvet quilt? It comes in two colors (the pink seen here, and a lovely shade of yellow-gold). But, more importantly, you'll never want to get out of bed with a layer this lush.
3
Stone Cottage Micromink Quilt Set
$73.49 - $133.32, Overstock
Velvety micromink fabric makes this quilt set (which comes with two matching shams) one of the coziest things you'll ever curl up under. Customers have noted in reviews that not only is it soft, it looks more expensive than it is—always a plus.

4
Grid Cotton Jersey Quilt
$99.95 - $105, CB2
Cotton jersey material is always a win when you're going for cozy, because it's like wrapping yourself in your favorite, worn-in t-shirt. And the cool, modern grid pattern on this quilt is just an added bonus.
5
Levtex Home Sasha Quilt
$79.99 - $129.99, Bed Bath & Beyond
Soft and lightweight, this linen blend quilt is a great year-round option. Reviewers have noted that it's soft and not bulky like a lot of bedspreads, so it's perfect for layering.
$179 - $259, Grandin Road
Another lush velvet find: this diamond pattern quilt that comes in several striking colors. The top is quilted velvet, while the underside is cotton sheeting, and it looks as glam as it feels.
7
Stitched Chambray Quilt Set
$56.99 - $66.49, Target
Chambray is another lightweight, comfy fabric, so you know this quilt set is bound to be good. Plus, along with being a sold choice in coziness, it also comes with shams and matching throw pillows, so no need to buy everything separately.

8
Bedsure Microfiber Quilt Set
$34.99 - $46.99, Amazon
With over 750 reviews and a 4.3 star rating, it's pretty safe to say Amazon customers love this quilt set. The basketweave pattern on this quilt looks cool, but more importantly, the microfiber fabric makes it feel ultra-soft.

$111 - $148, Garnet Hill
This quilt is called the Dream Quilt because that's what you'll do as soon as you curl up under it—float right off to Dreamland. The mid-weight fill makes it perfect for year-round use, and the soft cotton fabric means business in terms of comfort.
$129 - $169, Crane & Canopy
The stitched cloud pattern on this quilt will have you counting sheep in no time, especially considering this quilt's fabric. It's made with premium, breathable cotton for the ultimate in lightweight, layer-ready coziness.