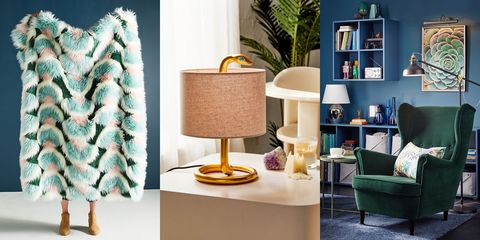 Anthropologie/Urban Outfitters/IKEA
Slytherins are often mistaken as the evil Hogwarts house, but that's just not true—ambition, cunning, and resourcefulness are what this Hogwarts house is really known for, and true Harry Potter fans know that. If you identify as a Slytherin you probably want to show that off proudly in your home, as stylishly as you possibly can. The good news is that's not that difficult. First of all, emerald green is totally in right now. And snakes? It might surprise you how gorgeously glam they can look as a part of your decor, if you find the right items.
If The Sorting Hat has placed you in the the house of ambition, turn your home into your own impossibly chic little version of the Slytherin dungeon with things like velvet green accent chairs, serpent lamps, snakeskin print accents, and maybe even a snake plant or two.
What happens when you combine IKEA's beloved STRANDMON chair and upholster it in dark green velvet? It becomes the perfect accent chair for all you stylish Slytherins out there.
2
Slytherin Chunky Knit Pillow
Cozy up with this handmade, chunky knit pillow striped with Slytherin's colors, green and silver.
Slytherin's house animal is the serpent, after all. This snake lamp is a s-s-stunning way to show off where your Hogwarts loyalty lies.
4
Slytherin Sorting Hat Print
For a more direct Harry Potter reference, try this instant download print which features the Sorting Hat's quote about Slytherin house.
5
Hand Woven Wall Hanging
This beautiful woven wall-hanging features your house colors, with silver-gray accents and dark green tassels.
A black and white snakeskin-print tray is a clever way to add a little more serpent-inspired decor to your home without going too bold.
If you burn incense at home, this snake-shaped incense holder basically has your name on it.
8
Juniper Faux Fur Throw Blanket
This gorgeous, fluffy faux fur throw blanket is perfect for cozying up on the couch, and the emerald green accents mean it will pair well with the rest of your Slytherin decor.
If actual snakes aren't your thing, go for subtlety with a snake plant instead. Bonus points if you plant it in a silver planter. And don't worry if you don't have a green thumb—a fake snake plant will do nicely, too.
Highland Bluff Studio
amazon.com
$35.00
Let your house be filled with the scents of Slytherin house (in this case, crisp citrus and lake water) with this House Ambition candle.
11
Green & Silver Coasters
And last but not least, keep your table free from water rings with these Slytherin-inspired coasters in marbled green and silver.