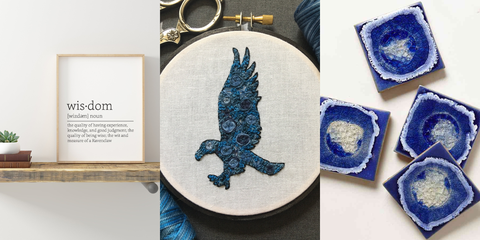 You'll never meet a wizard (or muggle) wiser and more creative than a Ravenclaw, the Hogwarts house of intelligence, and that's something to be pretty proud of. So proud, in fact, that you might be wondering how you can show off your smarts and style in your home—without, you know, filling your home with Harry Potter merch. With a color scheme of blue and bronze and a few eagle accents (that is the house mascot, after all), you can turn your home into a cozy, book-filled room that rivals the Ravenclaw common room, but still make it your own.
The Sorting Hat says you've got a ready mind, so here's everything you need to make your home the Ravenclaw-inspired den of your dreams.
1
Soriano Channel Tufted Chair
First thing's first: a blue velvet chair that's totally chic, even if it doesn't scream "I AM A RAVENCLAW!" (And, perhaps, better that it doesn't.)
2
Ravenclaw Hand Embroidery Art
Really show off your house pride with this beautiful hand-embroidered art of the Ravenclaw eagle in different shades of blue.
3
Hidden Storage Book Box
This cleverly disguised storage box is made from vintage books, which is perhaps the most Ravenclaw thing ever.
4
Marled Basketweave Throw
You'll need a coordinating throw blanket for all those Sunday afternoons spend curled up with a good book, after all.
5
Bronze & Blue Throw Pillows
These handmade silk cushions come in a set of four and just so happen to be in your house colors.
6
Wisdom Definition Print
This simple typography print will always remind you of your best Ravenclaw quality: your wisdom, wit, and good judgment.
7
Navy Celestial Coaster Set
Add a pop of bright navy blue in a subtle place, like the coasters on your coffee table.
Prop up all those books you inevitably have lying around with a pair of eagle bookends to subtly show off your Ravenclaw tendencies.
The dusty blue and hints of bronze in this rug will pull your entire Ravenclaw-inspired room together.
10
Blue Antiqued Drawer Pulls
Add just a touch of Ravenclaw flair to a dresser or desk with these cool, antiqued drawer pulls with blue stones to match your Hogwarts house.
11
House Intelligence Candle
And of course, this list wouldn't be complete without a Ravenclaw-themed candle, with scents like black tea, paper, and leather.