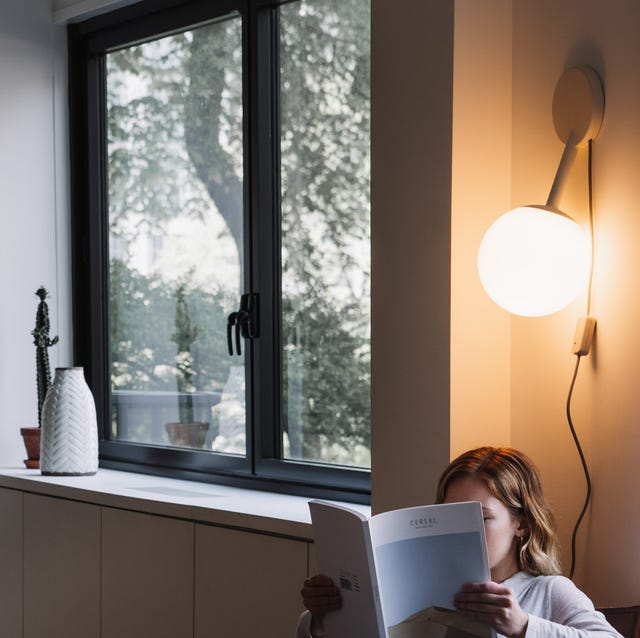 You love the look of wall sconces, but you either live in a rental and can't install them yourself, or you don't want to deal with hiring an electrician to hard-wire them around your house. In any case, a plug-in sconce is the solution for you. Sure, they won't have the cordless look of a traditional sconce, but you can fix that, too—a few cord concealers ought to do the trick. And as an added bonus, wall sconces free up table (and floor) space where you'd typically put a regular lamp. Whether you want a sconce that's simple and pretty or an adjustable swing arm light (perfect for bedside reading!), you can hang these wall lights anywhere you have an open plug, no electrician necessary.
Winston Porter
wayfair.com
$149.99
Keep things simple and classic with this gold plug-in wall sconce that features a pleated shade and an adjustable swing arm.
urbanoutfitters.com
$59.00
In case you need more proof that rattan is in, it's even made its way to wall sconces. Perfect for a beachy-boho vibe.
Justina Blakeney
anthropologie.com
$118.00
Speaking of boho, you can't go wrong with layers upon layers of fringe, especially in a soft shade of blush. (It also comes in a natural white, too.)
With a long, antiqued brass gooseneck frame and a salt-blasted, pill-shaped globe light, this sconce is somehow both simple and dramatic.
This persimmon finish adds a bright pop of color, but you can score this gumball-shaped sconce in black, white, and natural brass, too.
6
Daniella Textured Glass Sconce
urbanoutfitters.com
$79.00
Between the textured glass globe light and the petal-shaped fixture, this sconce has an almost vintage appeal.
7
Brass Starburst Logan Wall Sconce
This brass starburst sconce features two light bulbs and adds an artistic, textured feel to your walls.
This sconce is full of surprises: First, it's actually 3D-printed. Second? It also doubles as a table lamp.
urbanoutfitters.com
$59.99
Take your love of crystals to the next level with these crystal wall sconces, which give off an ethereal warm glow.
anthropologie.com
$798.00
Industrial style with a flair for the dramatic, this caged, black steel sconce has an adjustable arm and can be used as a plug-in or regular sconce.
With a timeless design and an ultra-affordable price tag, you really can't go wrong with this simple sconce.
12
Simone Double Plug-In Sconce
If you're of the mindset that two lights are better than one, then this double-headed modern sconce (which also comes in natural brass) is for you.
13
Imbrie Articulating Pin-Up Sconce
This adjustable, articulating sconce is also totally customizable—choose from four different finishes for the arm and base, and more than 100 options for the shade.