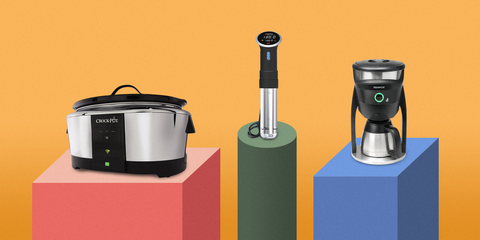 It feels like with every passing month, we get closer and closer to living like the Jetsons. Technology keeps getting smarter and more interesting, and as a result, even the most basic things we use on a day-to-day basis have become pretty advanced. It was just a few years ago that voice assistants like Amazon Alexa and Google Assistant weren't common things to have in your home, and now apps and voice assistants can control everything from your lightbulbs to your refrigerator. Now you can talk to your microwave and control your blender from your phone, and it's not weird. (Okay, it's a little weird.)
If you wish life was more like Disney's Smart House come true — you know, just without all the scary malfunctions and glitches — here are some of the coolest smart home devices and appliances you can have in your kitchen. Cooking's never been easier, or more connected.
1
Behmor Connected Coffee Maker
$164.45
This coffee maker is compatible with your Amazon Echo, so you can ask Alexa to brew your coffee for you. Plus, you can control the temperature through an app on your phone.
2
Drop Connected Kitchen Scale
$29.99

The Drop scale is more than just a smart scale; It connects to hundreds of recipes through a smartphone app and makes substituting ingredients and changing portion sizes way easier.
3
Wemo Wifi-Enabled Crock-Pot
$119.17
This slow cooker connects to wifi, so you can control the temperature and cook time from an app on your phone.
4
Anova Culinary Sous Vide Precision Cooker
$128.96
Up your sous vide cooking game with this precision cooker from Anova, designed to help you slow-cook anything to perfection, thanks to the accompanying app.
$149.99
Raise your hand if you've ever thrown out an empty bottle of ketchup (or any other kitchen product) and forgotten to order more, only to realize it when you're in desperate need of it? The GeniCan attaches to your trash can, so you can scan items (or use the voice control feature) as you throw them out to add them to your shopping list.
6
iDevices Kitchen Thermometer
$39.99

This kitchen thermometer can track two temperatures at once on your smartphone via an app, so it's a great option for holidays like Thanksgiving, when cooking multiple things at the same time can be a little tricky.
7
Perfect Drink Smart Scale
$90.95
At-home bartenders will love this smart drink scale that helps you make perfect cocktails every time, especially with the wealth of recipes to choose from on its accompanying app.
8
NutriBullet Balance Smart Blender
$153.95
This smart blender connects to Bluetooth, and through its app, you can update your grocery list and track nutritional information for all your favorite smoothies.
9
GE Smart Countertop Microwave Oven
$125.99
If you've ever wished you could simply talk to your microwave, now's your chance — this GE microwave connects to Amazon Alexa, so you can control it with your voice. It also has scan-to-cook technology that helps cook your food perfectly every time.
$599
The June oven claims to be seven appliances in one, acting as a convection oven, air fryer, dehydrator, slow cooker, broiler, toaster, and warming drawer — all from one little spot on your counter. And if that's not enough for you, you can also control it from your phone.
11
GE Connected Double Oven Electric Convection Range
$2,099.99
Did you know you can talk to your oven, now too? This electric convection range from GE is just one example — it connects to wifi, so you can set it up to work with your Amazon Alexa, Google Assistant, Nest, and several other apps for the easiest cooking experience ever. "Hey Alexa, preheat the oven to 350," is almost as cool as when Rosie made dinner for the Jetsons. Almost.
12
Samsung 4-Door Refrigerator With Family Hub
$2,946
This is but one of Samsung's line of smart fridges equipped with Family Hub and Bixby, Samsung's voice assistant. Family Hub is basically like having a tablet screen built into your fridge door that also works as a memo board, and you can all access it from your phones. Plus, the fridge has a built-in camera, so if you're ever out at the grocery store wondering if you have enough eggs at home, you can just take a peek inside from your phone.