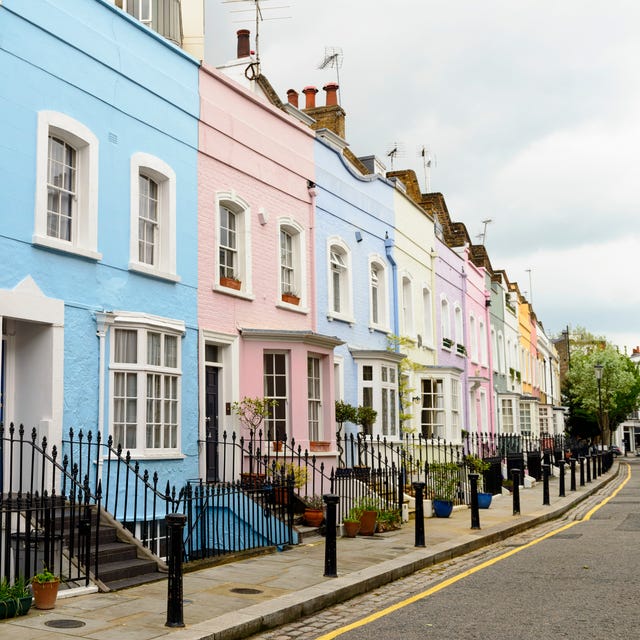 The front door is the first thing guests will see, so it really pays to make this a presentable, well-decorated space. If you're looking for some modern front door ideas then you've come to the right place – from outdoor lights to hanging baskets, there are some front door essentials that will really elevate your exterior to new, Instagrammable heights.
Taking pride with the exterior of your house not only improves the look of your home, but can increase house value, and impact the way you feel, engage and interact with your space. So, what makes a front door Instagrammable? Take a look at some of the key ways you can transform your front door.
When it comes to an Insta-worthy entrance, there's no better place to start than the colour of your front door.
'First impressions count and they last. Try not to think of your front door as a barrier but rather as a gateway into your home,' says property expert Kunle Barker, in response to The Face of Britain's Front Doors study. 'The front door can hint at your design style and even personality. Simple things like painting your front door a bright colour can make a real difference.
'Last year I painted my front door pink which transformed the entrance to my house and gave our home an injection of personality.'
Remember, choose a shade that complements your own personal style and think about the mood you want to create. Blue is cool, calming and meditative; pink is gentle, delicate and soft; while yellow is radiant, cheerful and optimistic.
Browse Instagram hashtags #doorstagram and #doortraits if you're ever in need of some inspiration.
More so now than ever, houseproud Brits are turning their hands to gardening to make a statement with their homes.
'In a bid to stand out on the street and become the envy of their neighbours, the nation's focus is shifting towards front doors and front gardens, with every visible space being transformed into the ultimate crowd-pleaser for the public,' reveals the Wyevale Garden Centres 2019 trend report.
So, how exactly do you go about doing this? Twin bay trees provide a great way to add structural impact. Wyevale says evergreen box and topiary – in all shapes and sizes – are also in demand, as well as ornamental trees, including viburnums, while Japanese maples provide year-round appeal.
But the real go-to front door dressing? Hanging baskets – they now feature in nearly 40 per cent of front gardens across the UK.
For those who have a front garden, remember that this will be seen before guests even reach your door. Aim for a well maintained, flower-filled design with symmetry and structure, and ensure you have a clear pathway.

'Consider the path through your front garden as a journey to your home, giving visitors an all-important first impression,' explains Tony Pell, senior product manager at JELD-WEN. 'Your pathway may have stood the test of time, however, even durable materials like cement and stone can be tested by the elements and develop cracks and wearing.'
Upgrade your kerb appeal and illuminate your home on the entrance with a quality porch light, such as a statement light overhanging the porch or doorway.
Remember, outdoor lighting fittings always carry Ingress Protection (IP) ratings, so look for a minimum rating of IP44 to IP68 which protects against rain, but also sealed for any dust particles, explains leading electrical body NICEIC.
Pictured: St Ives Ships Light, £45, Garden Trading
BUY NOW
Depending on the architectural style of your house, you can turn an ordinary glass panel front door into something incredibly Instagram-worthy by applying stylish window film, which is also a great privacy solution.
For example, this period and contemporary stained glass effect window film from Purlfrost is an affordable and easy-to-apply alternative to real stained glass, enabling you to transform your front door in minutes.
There's no better way to welcome your guests than with a doormat. Other than prompting them to wipe their feet, it instantly makes your house inviting.
This thick, hard-wearing natural coir pile 'Hello' doormat from John Lewis is suitable for outside your front door and is a great way to welcome guests. Coir makes an excellent material for doormats as its roughness is good for removing mud – you just need a brush to keep it clean.
Pictured: Hello Door Mat, £10, John Lewis & Partners
BUY NOW