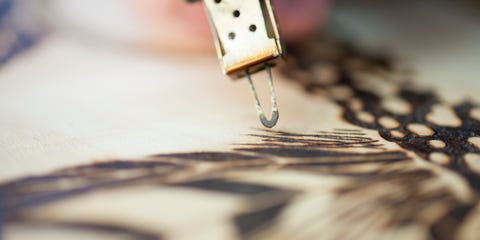 Craft lovers will be indulging in Dirty Pouring, pyrography, calligraphy, candle making and wabi-sabi this year, according to Hobbycraft.
The UK's largest craft retailer predicts a resurgence in rela old favourites, alongside more creative pursuits to satisfy our thirst for sustainability and getting back to nature. Sounds like the perfect way to spend a Sunday afternoon.
These are the five crafts we'll all be trying this year...
The newest trend on the list, Dirty Pouring involves mi more than one paint colour in the same container before adding (or pouring) it on to the canvas or substrate to create a marbled look.
And it's growing in popularity, Hobbycraft say sales have increased by 14 per cent year-on-year. They'll be adding more Dirty Pouring products to their range in the new year to satisfy demand.
SHOP PAINTS
A pen-like wood burning tool is used to create unique designs on wood and leather in Pyrography. And you can pick up a kit for as little as £10. Get in quick – Hobbycraft say there's been a 360 per cent increase in woodblock sales this year so far.
SHOP PYROGRAPHY
Such a beautiful way to personalise cards and gift tags, calligraphy is having a huge resurgence. Hobbycraft says sales of pens, nibs and ink are up 40 per cent on last year.
SHOP CALLIGRAPHY
Homemade candles always make for a thoughtful gift, so it's perhaps no surprise that Hobbycraft has seen a 41 per cent rise in candle-making sales.
This time around though crafters are after something a bit more impressive. The craft retailer's video on How to Make Flowerbomb Candles reached over 84,000 people on Facebook alone.
SHOP CANDLE MAKING
Wabi-sabi is a new form of upcycling broken items based on the Japanese movement for appreciating beauty in imperfection.
Gold paint or coloured thread is added to cracks or rips in china and clothing.
SHOP WABI-SABI