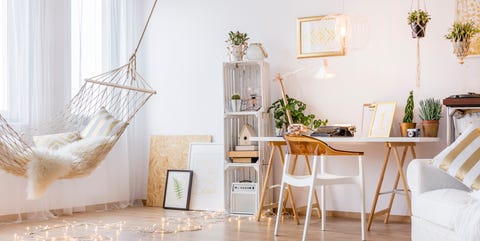 Getty Images
KatarzynaBialasiewicz
Having a hammock in your backyard is great, but putting a hammock up inside your home? Now that gives new meaning to hanging out. There's something extra cozy (not to mention totally cool and chic) about indoor hammocks and hammock chairs. It's like you can just curl up and float on cloud nine right there in your living room.
No matter what your style is, from rainbows to macramé, there's a hammock for everyone on this list. Get ready to nap your days away.
Here's how you decorate with pink and have it actually look grown-up. Keep the flowers and frills to a minimum, and play with pops of other color, like green or yellow.
2
Fringed Macramé Hammock
If you're looking for something a little more classic hammock, this is the fringed style of your boho dreams.
3
Cotton Rope Hammock Chair
Let's be real: Hammocks take up a lot of real estate. For smaller spaces, try a hammock chair — you'll get the same cozy, floating vibe, but with a little more room left over.
If neutral's not your thing, go rainbow! As a bonus, the colors liven up white walls — which means you can get away without painting or styling a ton of stuff around it.
5
Black & White Tassel Hammock
The handmade macramé and tassel detail on this simple black-and-white striped hammock really make it something special.
If a standard hammock chair isn't quite decorative enough for you, show off a little with some extra-long fringe, like with this macramé hammock chair.
7
Pink & Purple Striped Hammock
A pop of pink and purple will add a ton of interest to your space, but this hammock also comes in bright shades of orange, blue, and green, so there's a little something for everyone.
8
Blue Macramé Fringe Hammock
The contrasting teal (and super detailed!) macramé fringe on this light blue hammock makes it look like Instagram-worthy ocean water — perfect, since you'll nod off and dream of the beach anyway.
9
Jacquard Woven Double Hammock
If you like geometric patterns, you'll love this not-too-busy woven jacquard hammock with fringe — plus, it's a double hammock, so there's plenty of room (even to cozy up with someone special!).
10
Janus Patterned Hammock
Go for a hammock with a unique pattern, like this pink, blue, and orange printed hammock that looks like a more upscale tie-dye.
This hammock chair will add a little color and texture to your space, but without being too bold — and the little matching tassels on the spreader bar are a fun touch.
12
Oversized Hammock Chair
This extra large hammock chair looks like the coziest cross between a hammock chair and a regular hammock you could ever possibly curl up in.
13
Striped Double Hammock
With its peaceful blue, green, gray, and white stripes, this double hammock (again: yay, more room!) will complement a nautical aesthetic, no problem.
This hammock chair has a little more structure to it if that's more up your alley — and the handmade fringe down the sides and on the bottom is so cute.
15
Bordeaux Fringed Family Hammock
You and your kids can hang out on this cotton family hammock with wine-colored fringe, because there's plenty of room — but you can also lay back and relax alone, too. (It does pair well with a glass of red, after all).